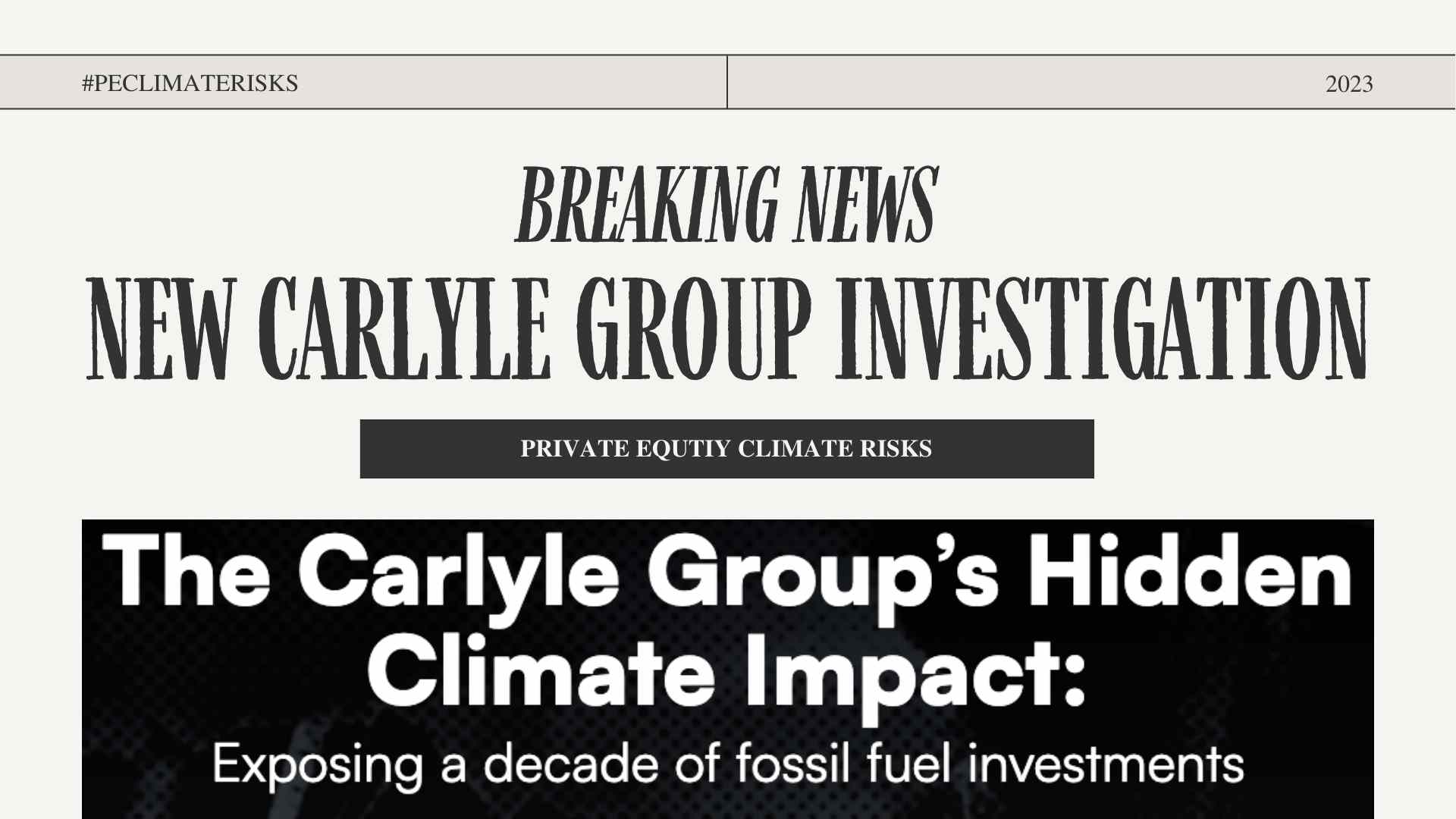 Report on Carlyle fossil fuel emissions covered in multiple publications
A new investigation released by the Private Equity Climate Risks consortium revealed that The Carlyle Group, a private equity titan with $373 billion in assets under management, has been quietly scooping up fossil fuel assets over the past decade, in contradiction of its stated climate goals. Its billions of dollars of investment in fossil fuel assets produced an estimated 277 million metric tons of CO2 emissions over just ten years, as much as the "carbon bomb" that Alaska's Willow arctic drilling project is set to emit in its entire lifetime.
Multiple publications covered the release of the new report and the startling findings that The Carlyle Group's lopsided energy portfolio tips largely in favor of fossil fuels.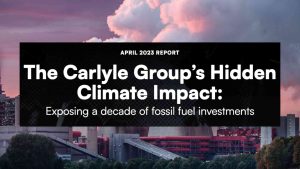 PECR_Report_Carlyles-Hidden-Climate-Impact_April2023-compressed
---
"Despite receiving half of their net profit from NGP in 2022, they do not include those associated emissions in their data. Carlyle cannot benefit from the financial upsides of NGP's fossil fuel revenue streams without also being accountable for the environmental impacts," said Amanda Mendoza, co-author and climate researcher at the Private Equity Stakeholder Project. "Our report just scratches the surface of its fossil fuel impacts."
---
"The Carlyle Group's portfolio of fossil fuel companies emitted an estimated 277 million metric tons of carbon dioxide equivalent (CO2e)—a measure that includes methane and other potent global-heating gases—from 2011 to 2021, according to an investigation into the company's energy portfolio.
The research calculates the multinational's 10-year greenhouse gas footprint to be roughly equivalent to the "carbon bomb" that Alaska's Willow arctic drilling project is to emit over its decades-long operation, and would take an estimated 4.6 billion new trees per decade to remove from the atmosphere.
The new research, by the Private Equity Climate Risks project, calculated Carlyle's greenhouse gas footprint using an industry-designed tool developed by the Initiative Climate International to document direct and indirect emissions by private equity firms—having first verified which oil, gas and coal companies they back, own or invest in through publicly available information."
---
"The portfolio of one of the world's largest private equity companies emitted 277 MtCO2e over the 10-year period to 2021, according to an investigative report published this week that calls for greater disclosure regulation of unlisted firms and recommends ways to stem the flow of dirty assets into private hands.
The paper titled The Carlyle Group's Hidden Climate Impact, takes aim at the investment company, one of the top five largest private equity firms in the world. It argues that such investors remain too far away from public scrutiny and with minimal regulatory oversight, which creates a dangerous gap in the transparency of their actions.
The research was undertaken by non-profit organisations Americans for Financial Reform Education Fund (AFREF) and the Private Equity Stakeholder Project (PESP), in collaboration with the Global Energy Monitor (GEM), who calculated that Carlyle has an portfolio with $22.4 bln in carbon-intensive energy but just $1.4 bln committed to renewable and sustainable energy companies –
less than 1% of the firm's assets under management (AUM)."
Report calculates huge climate impact of private equity firm investments « Carbon Pulse
---
"At the same time, private equity investment in the energy sector is still heavily skewed toward fossil fuels. A report yesterday from Global Energy Monitor and other research groups found that Carlyle's portfolio invests $16 in fossil fuels for every dollar invested in low-carbon energy."