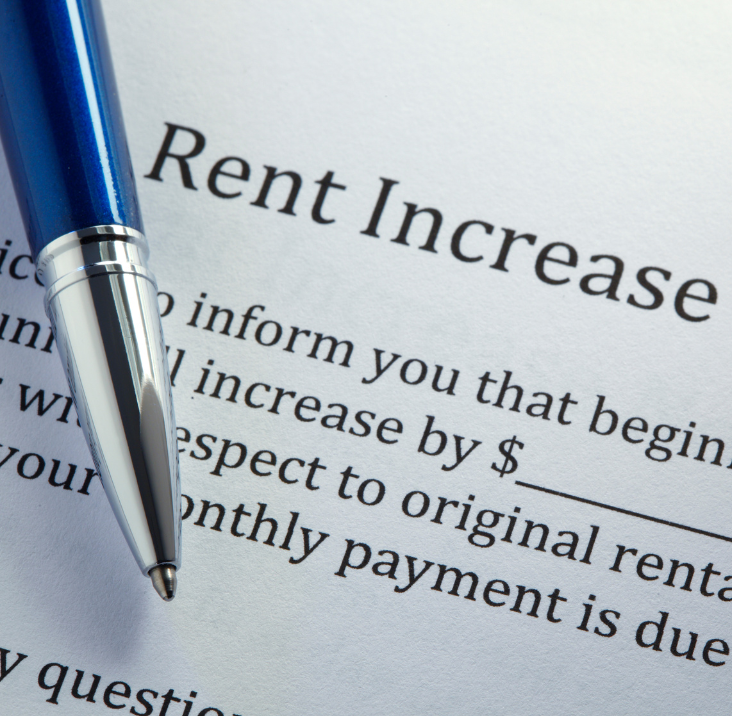 After filing to evict Florida tenants, Blackstone subsidiary dramatically increases rents
There is a disturbing pattern in Blackstone-owned rental properties in Florida. In at least 33 cases over the last year at properties owned by Blackstone's single family rental subsidiary Home Partners of America, Blackstone filed to evict the tenant and then shortly after, sometimes the following month, listed the property at a substantially higher rent, ranging from 9% to 38% higher.[1] See below list.
In nearly three dozen cases, following eviction filings Blackstone has listed properties for rents much higher than overall market rents have increased.
For instance:
In Bradenton, there are three properties where Blackstone filed to evict tenants and then listed the properties for rents that were 16% to 38% higher than for the previous tenant.
In Apopka, there are two properties where Blackstone filed to evict the tenants and the following month listed the properties at rents more than 20% higher than they had been.
In Apollo Beach, Blackstone filed to evict two tenants in October 2022 and then in November listed one property with rent 22% higher than it had been and in December listed the other property at a rental price 15% higher than it had been.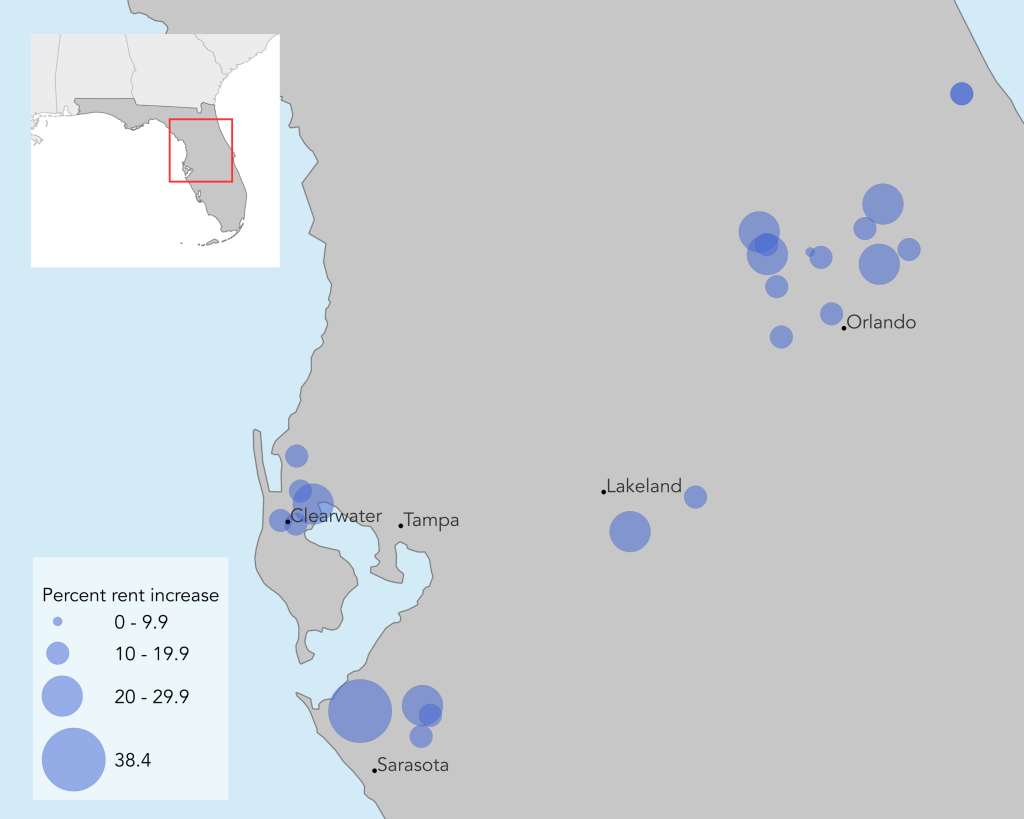 Since 2020, Blackstone has been on an aggressive buying spree, expanding its residential real estate empire, adding over 200,000 housing units to its portfolio.[2] Blackstone now owns over 300,000 housing units, making it the largest landlord in the U.S.[3]
Until August 2022, Blackstone had a voluntary eviction moratorium for tenants who were behind on rent. Since then, Blackstone has initiated a wave of evictions in a number of states and counties throughout the U.S. For instance, Blackstone filed over 350 evictions in Florida between August and November 2022.[4] If this trend was present at all of its properties, that would mean that Blackstone would have filed to evict thousands of tenants in the last six months of 2022 alone.
Blackstone's head of Americas real estate Nadeem Meghji said at an internal company meeting late last year that there was a "terrific" future for Blackstone's real estate operations thanks in part to its plan to resume evictions. "[W]e're also seeing a meaningful increase in economic occupancy as we move past what were voluntary eviction restrictions that had been in place for the last couple of years," Meghji said.[5]
Blackstone's Home Partners of America Florida Evictions and Rent Hikes
 

Street Address

 

City

Eviction
New Listing*
Percentage Increase
Date of Eviction Filing
Monthly Rent at Time of Eviction
Date
Monthly Rent
SEMINOLE COUNTY
1004 Terry Drive

Altamonte Springs

Oct-22
$2,789
Nov-22
$3,045
9.20%
322 Notre Dame Dr
Sep-22
$2,175
Jan-23
$2,465
13.30%
100 Crestwood Dr

Longwood

Nov-22
$3,132
Mar-23
$3,495
11.60%
147 Holderness Dr
Sep-22
$2,548
Oct-22
$3,045
19.50%
715 Comanche St

Oviedo

Sep-22
$2,973
Oct-22
$3,395
14.20%
2425 Rock Lane
Sep-22
$2,678
Oct-22
$3,235
20.80%
1724 Billie Lynn Point

Sanford

Oct-22
$2,510
Feb-23
$2,995
19.30%
2540 Daffodil Terrace
Sep-22
$1,708
Mar-23
$2,195
28.50%
ORANGE COUNTY
929 Cavan Drive

Apopka

Oct-22
$2,945
Nov-22
$3,675
24.80%
2756 Ponkan Meadow
Apr-23
$2,495
Apr-23
$3,045
22.00%
1355 Madison Ivy
Oct-22
$2,876
Apr-23
$3,395
18.10%
1867 Lochshyre Loop
Ocoee
Sep-22
$2,400
Nov-22
$2,795
16.50%
555 Edgerly Pl
Orlando
Sep-22
$2,968
Oct-22
$3,395
14.40%
7716 Ligonier Ct
Sep-22
$2,583
Oct-22
$2,945
14.00%
MANATEE COUNTY
12642 Cara Cara Loop

Bradenton

Sep-22
$2,330
Mar-23
$3,225
38.40%
235 Dahlia Court
Sep-22
$3,020
Apr-23
$3,795
25.70%
14106 18th Place E
Sep-22
$3,300
Feb-23
$3,845
16.50%
6421 Fox Grape Ln
Lakewood ranch
Oct-22
$3,088
Nov-22
$3,475
12.50%
PINELLAS COUNTY
2205 Hemerick Place

Clearwater

Sep-22
$2,135
Feb-23
$2,515
17.80%
1208 Claire Drive
Sep-22
$1,638
Mar-23
$1,945
18.70%
664 Channing Drive
Palm Harbor
Jan-23
$2,880
Feb-23
$3,245
12.70%
4163 Mallard Drive
Safety Harbor
Jan-23
$2,740
Mar-23
$3,295
20.30%
1672 Countrywood
Tarpon Springs
Oct-22
$2,326
Feb-23
$2,565
10.30%
LEE COUNTY
2601 Hidden Perch
Fort Myers
Nov-22
$2,031
Jan-23
$2,295
13.00%
POLK COUNTY
6147 Strickland Ave
Lakeland
Aug-22
$1,858
Oct-22
$2,295
23.50%
614 Sears Ave NE
Winter Haven
Sep-22
$1,580
Oct-22
$1,825
15.50%
BROWARD COUNTY
1060 North Douglas
Pembroke Pines
Sep-22
$2,908
Feb-23
$3,360
15.50%
VOLUSIA COUNTY
6001 Heron Pond
Port Orange
Jan-23
$2,820
Apr-23
$3,195
13.30%
HILLSBOROUGH COUNTY
6901 Surrey Hill Place
Apollo Beach
Oct-22
$1,858
Dec-22
$2,145
15.45%
6528 Park Strand Dr
Oct-22
$2,698
Nov-22
$3,295
22.13%
3216 Magnolia Meadows Dr
Plant City
Oct-22
$2,131
Nov-22
$2,745
28.81%
3615 W Rogers Ave
Tampa
Nov-22
$2,192
Mar-23
$2,395
9.26%
3203 West Horatio Street Unit B
Oct-22
$3,515
Jan-23
$3,845
9.39%
*From Zillow.com, accessed April 26, 2023
**From https://www.zillow.com/rental-manager/market-trends/ , "Median Rental Price Over Time," accessed May 12, 2023
[1] Pre-eviction rents based on rent listed in eviction filing. Listed rent based on zillow.com listing.
[2]https://www.breit.com/portfolio/
[3]https://www.breit.com/portfolio/ lists 290,000 units owned by BREIT. There are additional properties that Blackstone owns that are not included in this, such as Stuy Town in New York City that has 11,200 units. National Multi-Family Housing Council lists MAA as the largest owner of rental units with 100,000 units, but Blackstone owns almost three times as many. "2021 Rankings, NMHC 50 Largest Apartment Owners," https://www.nmhc.org/research-insight/the-nmhc-50/top-50-lists/2021-top-owners-list/
[4] Florida county court records, accessed January 11, 2023
[5] Robin Wigglesworth, "Blackstone's plan to juice REIT," Financial Times, December 7, 2022,
https://www.ft.com/content/d02a59fb-493a-427a-849a-9acbd576cdbf