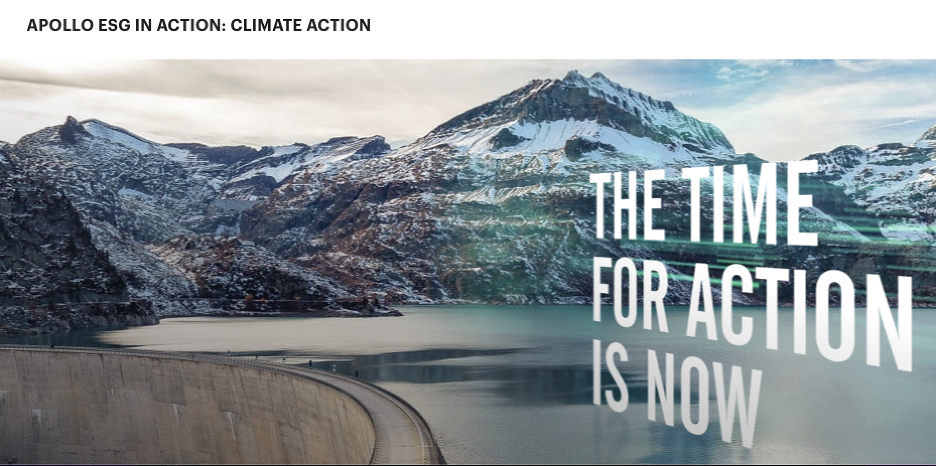 Apollo's Next Flagship Fund to Skip Fossil Fuels, After "Intense Pressure" and Losses
Apollo Global Management plans to raise $25 billion for its next flagship buyout fund in 2022 and will not be investing in fossil fuels through the new fund, according to Bloomberg. The new fund will be one of the largest private equity funds in the firm's history. Apollo has $481 billion in assets under management.
Apollo's decision to avoid fossil fuels in its new buyout fund sets the firm apart from its peers.
By comparison, Warburg Pincus announced in 2020 that the firm planned to steer its future flagship fund away from investments in fossil fuels, but the firm acquired two new oil and gas assets in 2021.
According to Bloomberg, the firm's decision to steer away from the oil and gas sector comes as "asset managers face intense pressure to invest in companies with positive environmental practices."
In October 2021, PESP released a report which noted that Apollo held investments in at least 18 energy companies, nearly 80 percent in fossil fuels.
The Sierra Club, Greenpeace and around two dozen environmental justice organizations joined the Private Equity Stakeholder Project to send a letter in April 2021 to Apollo and thirteen other major private equity firms calling for public disclosure of direct and indirect emissions resulting from investments in oil and gas assets, and calling for a transition plan away from fossil fuel investments by 2030.
Apollo's climate credentials were called into doubt when Bloomberg reported in November that Apollo and several peer firms among the titans of private equity had all failed to sign onto the Glasgow Financial Alliance for Net Zero (GFANZ), whereas other banking and insurance industry leaders representing $130 trillion in assets, already had.
Apollo has spruced up its references to energy on its website to focus more on climate. Following the October 2021 release of the PESP's Private Equity Propels the Climate Crisis report, Apollo scrubbed its website, which previously had language noting that the firm had "an extensive network of relationships across the energy, metals and mining, and agriculture sectors." The new website instead emphasizes climate action, stating: "The time for action is now. The risks of climate change know no borders. Apollo helps companies to take effective action, backed by our commitment to be part of the solution."
Apollo's more recent energy investments have leaned toward renewables. But, Apollo has ongoing fund mandates that include fossil fuel assets, such as midstream pipelines or oil storage facilities, through its recently closed $3.5 billion Infrastructure Opportunities Fund II, according to New Private Markets.
Apollo's track record on conventional energy investments has been marred by underperformance, Bloomberg reported:  "While Apollo's latest decision may appear woke, it also reflects a stark reality: The shale boom and bust and the early parts of the Covid-19 pandemic created losses for the private equity industry."
According to Bloomberg, Apollo's 2013 flagship fund held nine fossil fuel investments, and five of them were losing money as of the third quarter of 2021.  PESP's analysis noted one of Apollo's failed investments was shale driller Chisholm Oil & Gas, which filed for bankruptcy in June 2020.
"The move to avoid natural resources is in part reflected in the performance of Apollo's 2013 and 2017 funds, which have performed in the bottom half and top half of peers, respectively, as of Sept. 30," Bloomberg reported.
Apollo has not committed to other recommendations in the April 2021 letter from environmental groups, including disclosure of all direct and indirect emissions across all energy holdings, a just and equitable transition to a pollution free energy portfolio by 2030, and disclosure on how the company's, its executives', and its portfolio companies' political spending aligns with the Paris Agreement.

Private Equity Stakeholder Project has reached out to several other buyout firms asking if they plan to avoid fossil fuels in their flagship funds.