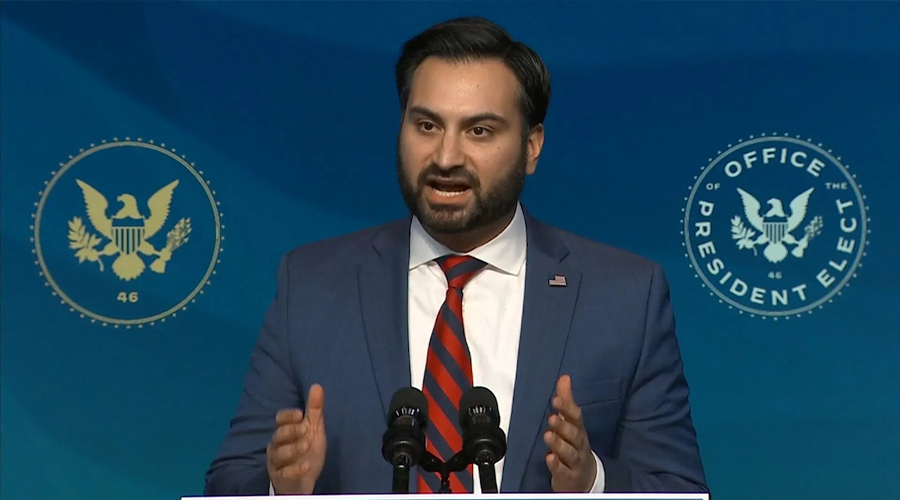 Biden's Climate Adviser Has Ties to Big Oil
The Nation reported on how White House National Climate Advisor Ali Zaidi spent the Trump years at law firms that represented fossil fuel companies and private equity giants profiteering from the climate crisis.
The Nation, May 17, 2022: Biden's Potential Next Climate Adviser Has Ties to Big Oil
According to The Nation, Zaidi worked at at 'big corporate law firms like Kirkland & Ellis, a right-wing firm that acts as a "holding pen" between Republican administrations, and Morrison & Foerster, where he used his expertise to advance the interests of oil and gas giants and private equity tycoons.'
Center for Biological Diversity's energy justice program director Jean Su told The Nation, "Fossil fuels have to end in order for our planet to survive. Anyone who doesn't have that principled position, and who can't stand up to fossil fuel bullies and the financial monster that funds fossil fuels, will backslide and not accomplish what we need for a clean energy future on a ticking time bomb like climate."
Describing Zaidi's ties to private equity, The Nation detailed how Kirkland & Ellis defends major oil and gas corporations facing class action lawsuits, and also specializes in advising private equity, "one of the world's biggest greenhouse gas emitters. The firm has worked for firms like Sun Capital Partners and Blackstone, proving especially lucrative for the world's highest-grossing law firm."
According to The Nation, Zaidi provided legal services to the Blackstone Group, 'one of the dirtiest firms in the industry and a driving force behind the destruction of the Amazon rainforest.' Citing PESP and Little Sis' report Private Equity's Dirty Dozen: 12 firms dripping in oil and the wealthy executives who run them, The Nation reports that Blackstone co-owns "one of the dirtiest" coal plants in the United States and multiple pipelines "that slush oil and gas" across the country. Zaidi also "directly advised firms like Bain Capital, KKR, Madison Dearborn Partners, and the Carlyle Group, which has about $24 billion invested in over six dozen fossil fuel companies."
"Zaidi's history of representing fossil fuel corporations is completely disqualifying," Dorothy Slater, a senior researcher at the Revolving Door Project, told The Nation.
"There is no excuse for Biden's top climate adviser to be sympathetic to oil, gas, and coal, which Zaidi clearly is, judging by his representation of companies like Murray Coal. A revolver like Zaidi shouldn't have a position influencing climate policy at all, and based on Biden's failure on climate so far, he is in no way deserving of a promotion."