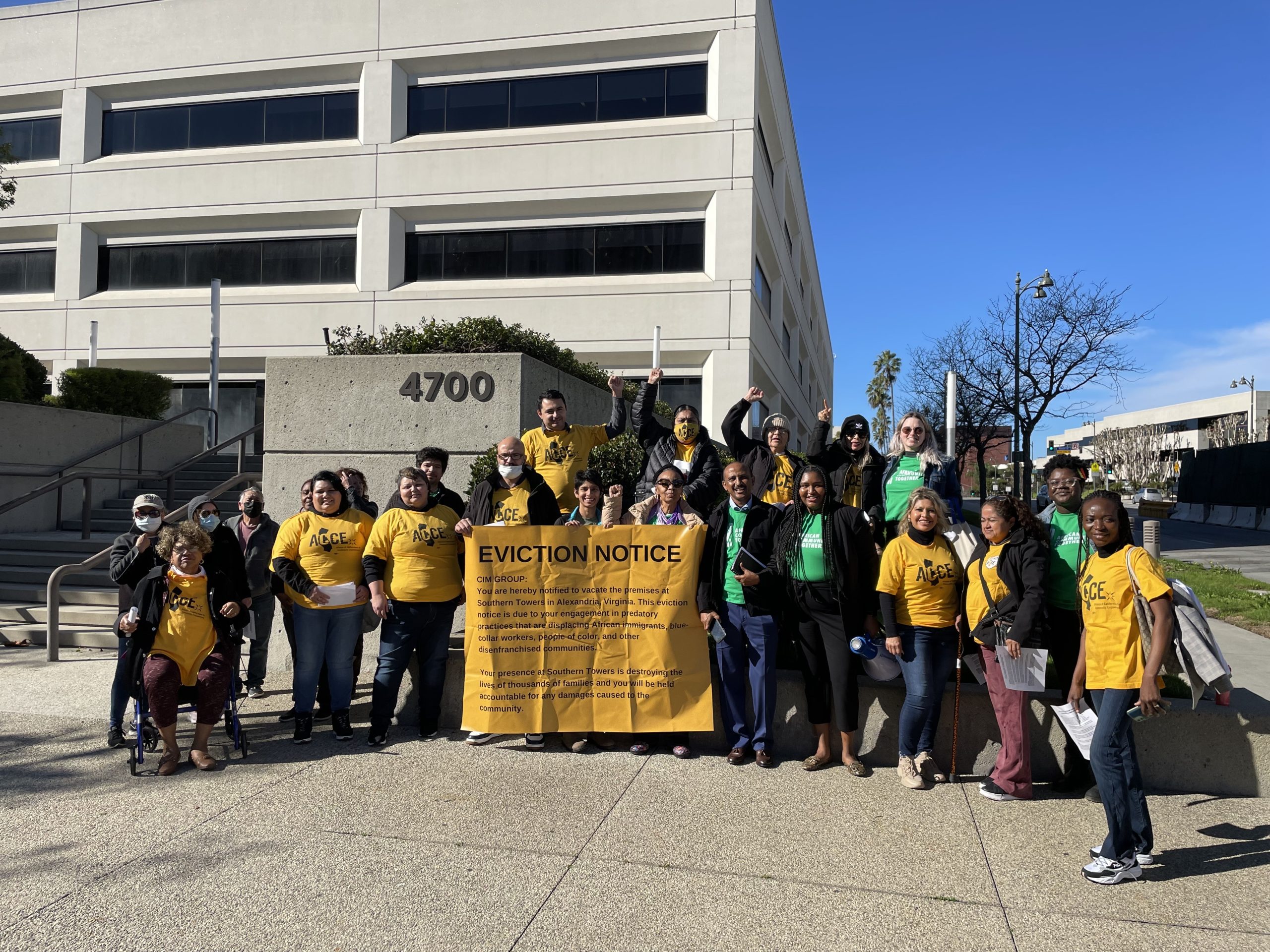 CIM Group Under Scrutiny by members of the  Federal Government 
The Federal Housing Financial Agency (FHFA) was created with the purpose of increasing access to safe, affordable, and equitable housing. Tasked with the oversight of Freddie Mac and Fannie Mae, the stated values of the FHFA include fairness, accountability, and integrity. Entities- such as private equity firms- that receive funding from the FHFA should be held to standards that ensure that tenants' rights are being respected. 
The CIM Group is a private equity firm that received funding from Freddie Mac ($346.7 million), for the purchase of the Southern Towers apartment complex located in Alexandria, Virginia. This is why when the firm began eviction proceedings during the nation-wide eviction moratorium, nonprofit African Communities Together and Southern Towers tenants filed a complaint with the FHFA. This complaint along with ongoing campaigning and organizing against tenant mistreatment has resulted in the CIM Group becoming the subject of federal scrutiny. 
FHFA Director Visits Southern Towers
On June 7th, FHFA Director Sandra Thompson, visited Southern Towers in person to speak directly with the impacted tenants. The tour came weeks after the FHFA announced a request for input (RFI) on conditioning government-backed loans to corporate landlords with a set of tenant protections including rent regulations. The RFI has since closed, with over 3,000 commentsfrom tenants, tenant advocates, and also politicians about housing conditions across the country. Comments included statements from tenants in favor of more oversight in relation to the private equity firms who have received funding from the FHFA, such as the CIM Group. 
Senators Warner and Kaine Release Statement About CIM Group 
After learning about the deplorable conditions that Southern Towers tenants were living under, Senators Mark Warner and Tim Kaine recently released a public letter condemning CIM's conduct. Posted on Warner and Kaine's social media and official websites, the letter states: 
As a federally-backed property, it is incumbent upon CIM to manage Southern Towers in alignment with the Federal Housing Finance Agency's mission to promote quality affordable housing. At a minimum, federally-backed properties should be well-maintained and free from health and safety risks, and have a responsive management team with transparent rent and utility pricing procedures. 
Not only does negative press about CIM reflect poorly on the pension funds that continue to invest in the private equity firm, these recent interactions with members of the federal government also create a more tangible risk for pensioners. As Southern Towers tenants are subjected to more unfair treatment by CIM, CIM's headline risk could create a reputational risk for institutional investors that impacts returns on their investments.