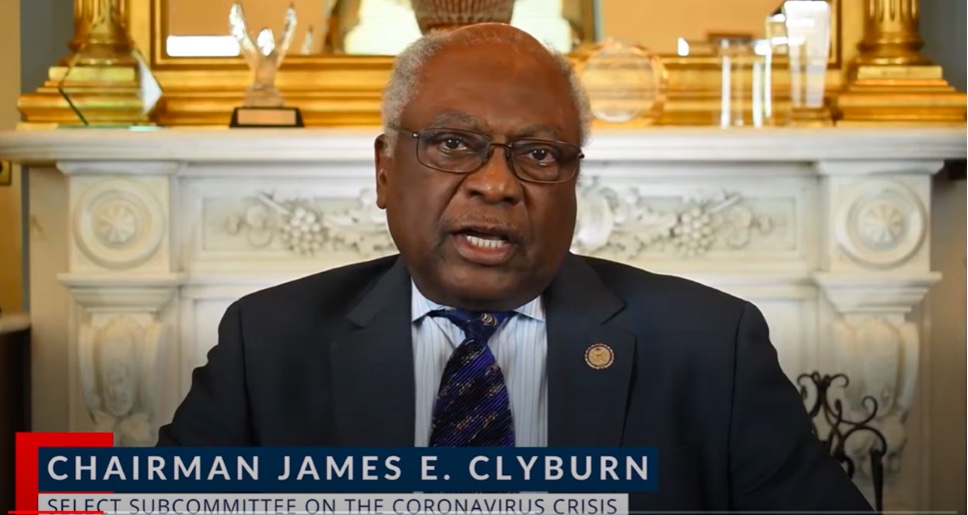 Corporate Landlords Used Abusive Tactics to Evict Struggling Americans During Height of Pandemic, Select Subcommittee on the Coronavirus Crisis Finds
The Select Subcommittee on the Coronavirus Crisis released a new staff report with findings from its year-long investigation into the eviction practices of four large corporate landlords during the first 16 months of the coronavirus pandemic.  The Select Subcommittee launched its investigation onJuly 20, 2021, following public reports that certain large landlord companies including private equity firms had failed to fully comply with the Centers for Disease Control and Prevention (CDC) eviction moratorium or to cooperate with rental assistance programs funded by Congress.  The investigation drew on data from the Private Equity Stakeholder Project, which tracked eviction filings by corporate landlords across dozens of counties in several states.
The Select Subcommittee found that the four companies under investigation—Pretium Partners (Pretium), Invitation Homes, Ventron Management (Ventron), and The Siegel Group (Siegel)—engaged in abusive tactics to remove tenants from their homes.  The investigation revealed that these companies filed a total of 14,744 eviction actions between March 15, 2020, and July 29, 2021—nearly three times more than previously known.  At the same time, these companies each displayed evidence of financial stability:  Invitation Homes reported record profits, Pretium invested in significant expansions, Siegel experienced almost no revenue decline, and both Ventron and Siegel each received more than $2 million in forgiven Paycheck Protection Program funds. 
The Select Subcommittee on the Coronavirus Crisis chair Rep. James E. Clyburn said: "Rather than working with cost-burdened tenants, abiding by applicable eviction moratoriums, and accepting federal rental assistance, these companies—with properties across 28 states—expedited evictions above all else.  In some instances, the Select Subcommittee found that their abuses may have violated the law, and I have referred our relevant findings to the appropriate federal and state agencies for further investigation and potential enforcement action.  These companies must be held accountable, and we must work to ensure that future emergencies do not result in further egregious evictions."
The Subcommittee found that private equity firm Pretium Partners filed to evict more than 6,200 residents during the pandemic.
Some findings from the report include:
Pretium, Invitation Homes, Ventron, and Siegel filed nearly three times as many

eviction cases as previously reported, totaling almost 15,000 eviction filings.  

Pretium Partners alone filed 6,264 eviction actions from March 2020 through July 2021

Pretium Partners' policies placed tenants into its eviction filing process after they fell as little as $500 to $1,000 behind on rent.

Pretium Partners similarly implemented eviction policies that would result in eviction filings for tenants who were only a single month behind on rent.

Pretium's eviction policies show that employees were directed only to hold off filing eviction cases on tenants behind on their rent when they had "Applied for rental assistance within the last 30 days," even as many tenants experienced significant delays receiving assistance from newly established state programs, often waiting more than three months for assistance.

Invitation Homes responded to inquiries from representatives of Fannie Mae—the government-sponsored enterprise that supported Invitation Homes with $1 billion in financing in 2017—about its pandemic eviction practices by downplaying their impacts. Invitation Homes told a Fannie Mae representative in March 2021 that only 6% of the company's eviction filings in the previous six months resulted in "residents losing their housing," but the company's own data for October 2020 through March 2021 show that approximately 27% of tenants whom it filed to evict in that period lost their housing either through court-ordered eviction or because they vacated or moved out of their homes after the eviction case was filed. 

Ventron, Invitation Homes, Siegel, and Pretium had policies or practices that allowed filing eviction cases even when a tenant had applied for rental assistance and was waiting for aid. 

These corporate landlords' aggressive eviction filing practices during the first 16 months of the pandemic, which continued even after the appropriation of billions of dollars in federal rental assistance, cannot be explained by severe financial duress. 
The report's findings correspond with research conducted by The Private Equity Stakeholder Project (PESP). PESP tracked eviction filings during the COVID-19 pandemic across dozens of counties in Georgia, Florida, Tennessee, Texas, Arizona and Nevada.
The Private Equity Stakeholder Project found last year that Pretium Partners' rental home companies filed to evict residents in majority-Black counties in Georgia at significantly higher rates than they did residents in majority-white counties in Florida.
Some of the largest corporate landlords including Pretium Partners and Invitation Homes filed to evict thousands of residents despite federal and state eviction moratoria, even as tens of billions of dollars of rental assistance was available to help residents stay in their homes. 
As the subcommittee staff found, even where eviction filings did not result in a court-ordered eviction, they likely pushed thousands of residents out of their homes despite eviction moratoria and rental assistance. For example, between March 2020 and July 2021, 29% of Invitation Homes' tenants whom the company filed to evict lost their housing.
Corporate landlords like those the Subcommittee studied are growing larger and larger. For example, Pretium Partners' rental home company Progress Residential went from 40,000 homes in January 2021 to 80,000 homes as of March 2022.
Residents should not have to deal with giant corporate landlords on their own. Policymakers should take steps to protect tenants from predatory behavior by corporate landlords by establishing a national consumer complaint database so residents have a means to raise concerns about corporate landlords, and see those concerns addressed. 
Local, state, and federal lawmakers should also support right to counsel laws ensuring that residents do not have to face these corporate landlords alone in court but have the support of legal counsel.