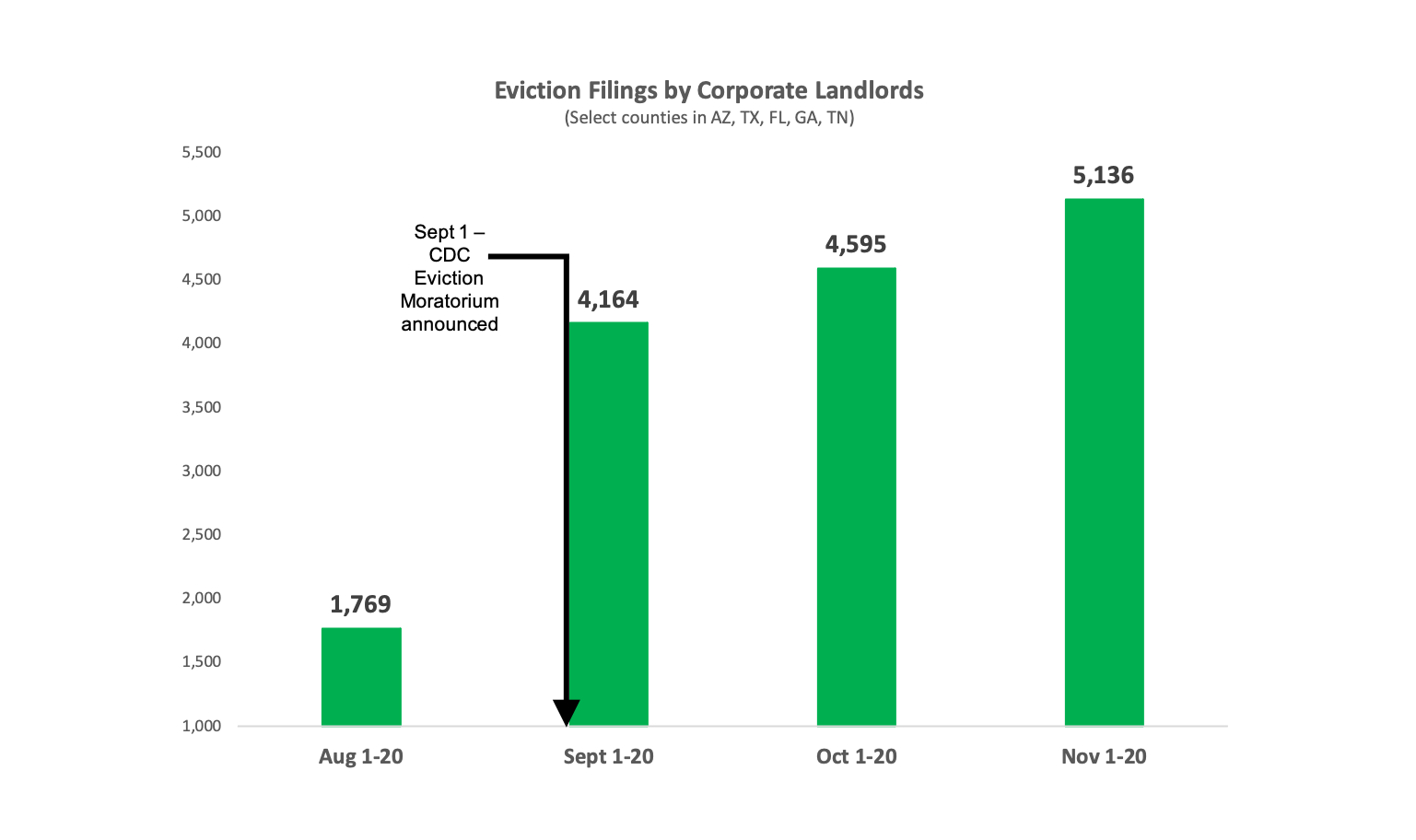 Eviction Actions by Corporate Landlords Increase Despite CDC Moratorium, Recent Surge in COVID-19 Cases
On September 1, the US Centers for Disease Control and Prevention (CDC) announced a moratorium on residential evictions through the end of the year to help limit the spread of COVID-19, noting:
"In the context of a pandemic, eviction moratoria—like quarantine, isolation, and social distancing—can be an effective public health measure utilized to prevent the spread of communicable disease. Eviction moratoria facilitate self-isolation by people who become ill or who are at risk for severe illness from COVID-19 due to an underlying medical condition. They also allow State and local authorities to more easily implement stay-at-home and social distancing directives to mitigate the community spread of COVID-19. Furthermore, housing stability helps protect public health because homelessness increases the likelihood of individuals moving into congregate settings, such as homeless shelters, which then puts individuals at higher risk to COVID-19."
The CDC's eviction moratorium is especially important given the current dramatic surge in COVID-19 cases across the US.
Yet despite the eviction moratorium and the dramatic increase in new COVID-19 cases nationwide, private equity firms and other corporate landlords have steadily filed more evictions to remove residents from their homes in the geographies the Private Equity Stakeholder Project has been tracking (in AZ, TX, FL, GA, and TN).
Large landlords have filed more than 5,100 cases in these geographies just since the beginning of November (through Nov 20), up from October and September. The Private Equity Stakeholder Project has identified more than 19,000 eviction actions filed by private equity firms and other corporate landlords since the CDC Eviction Moratorium was announced on September 1.
Some of the largest landlords in the US, including Greystar Real Estate Partners, Mid-America Apartment Communities, Starwood Capital, Cortland Partners and the Praedium Group have filed to evict residents in recent weeks. See list below.
Many of these cases are evictions for nonpayment of rent, which are specifically covered by the CDC eviction moratorium.
An organization violating the CDC eviction moratorium may be subject to a fine of up to $200,000 per event.
Recent media coverage:
Eviction filings since November 1 (select counties in AZ, FL, TX, GA, and TN)
| | |
| --- | --- |
| Landlord | Filings since Nov 1 |
| Ventron Management | 157 |
| S2 Capital | 131 |
| Mid-America Apartment Communities | 103 |
| Western Wealth Capital | 97 |
| Madera Residential | 71 |
| Olive Tree Holdings | 70 |
| Progress Residential | 65 |
| Camden Property Trust | 59 |
| Weidner Apartment Homes | 46 |
| IMT Residential | 46 |
| Main Street Renewal/ Amherst Holdings | 42 |
| Invitation Homes | 42 |
| InterCapital Group | 41 |
| American Landmark Apartments | 39 |
| Dominium Apartments | 37 |
| Home Partners of America | 35 |
| Bridge Investment Group | 32 |
| Pacifica Companies | 29 |
| Greystar Real Estate Partners | 27 |
| Highland Capital/ Nexpoint Advisors, L.P. | 27 |
| TruAmerica Multifamily | 24 |
| Carlyle Group | 24 |
| Federal Capital Partners | 24 |
| Eaton Vance | 24 |
| Colrich | 23 |
| Gables Residential | 22 |
| Pennybacker Capital | 21 |
| Carter Multifamily | 21 |
| Resource Real Estate | 20 |
| Praxis Capital | 16 |
| Republic Funds | 16 |
| Peak Capital Partners | 16 |
| Oaktree Capital | 16 |
| Front Yard Residential | 16 |
| Cortland Partners | 16 |
| FPA Multifamily | 14 |
| 29th Street Capital | 14 |
| Steadfast Companies | 14 |
| GEM Realty Capital | 13 |
| JRK Property Holdings | 13 |
| GWR Equities LLC | 13 |
| Benedict Canyon Equities | 12 |
| CBRE | 11 |
| Bell Partners | 11 |
| Investcorp | 10 |
| Carroll Organization | 10 |
| Electra America | 10 |
| Berkshire Residential Investments | 10 |
| Crow Holdings | 10 |
| UDR | 9 |
| NRP Group | 9 |
| Aimco | 9 |
| Harbor Group International | 9 |
| Turner Impact Capital | 8 |
| DRA Advisors | 8 |
| Equity Lifestyle Properties | 8 |
| Alden Torch | 8 |
| Covenant Capital Group | 8 |
| Nuveen/ TIAA-CREF | 7 |
| The Praedium Group | 8 |
| Waterton Residential | 7 |
| Abacus Capital Group | 6 |
| Chetrit Group | 6 |
| Ares Management | 6 |
| Fairfield Residential | 6 |
| Knightvest Capital | 5 |
| Clarion Partners | 5 |
| AEW Capital Management | 5 |
| UBS Realty Investors | 4 |
| Westdale Real Estate Investment and Management | 7 |
| RREEF | 4 |
| True North Management Group | 4 |
| MetLife | 4 |
| Invesco | 4 |
| Sares Regis Group | 3 |
| Waypoint Real Estate Investments | 3 |
| PGIM | 3 |
| Pacific Coast Capital Partners | 3 |
| Starwood Capital Group | 3 |
| Redwood Capital Group | 3 |
| Almanac Realty Investors | 3 |
| KBS Strategic Opportunity REIT | 3 |
| Merion Realty Partners | 2 |
| Rockwood Capital | 2 |
| Laramar Group | 2 |
| Thor Equities | 2 |
| Related Companies | 2 |
| AIG Global Real Estate | 2 |
| Brookfield Asset Management | 2 |
| Transwestern | 1 |
| Mesirow Financial | 1 |
| Northwood Investors/ Ravin Partners | 1 |
| Tricon Capital | 1 |
| TA Realty | 1 |
| Yes! Communities | 1 |
| Timberland Partners | 1 |
| BSR REIT | 1 |
| Fundamental Advisors LP | 1 |
| Harrison Street Real Estate Capital | 1 |
| Canyon Partners, LLC | 1 |
| Boston Capital Real Estate | 1 |
| BH Equities | 1 |
| Heitman | 1 |
| JPMorgan | 1 |
| Artemis Real Estate Partners | 1 |