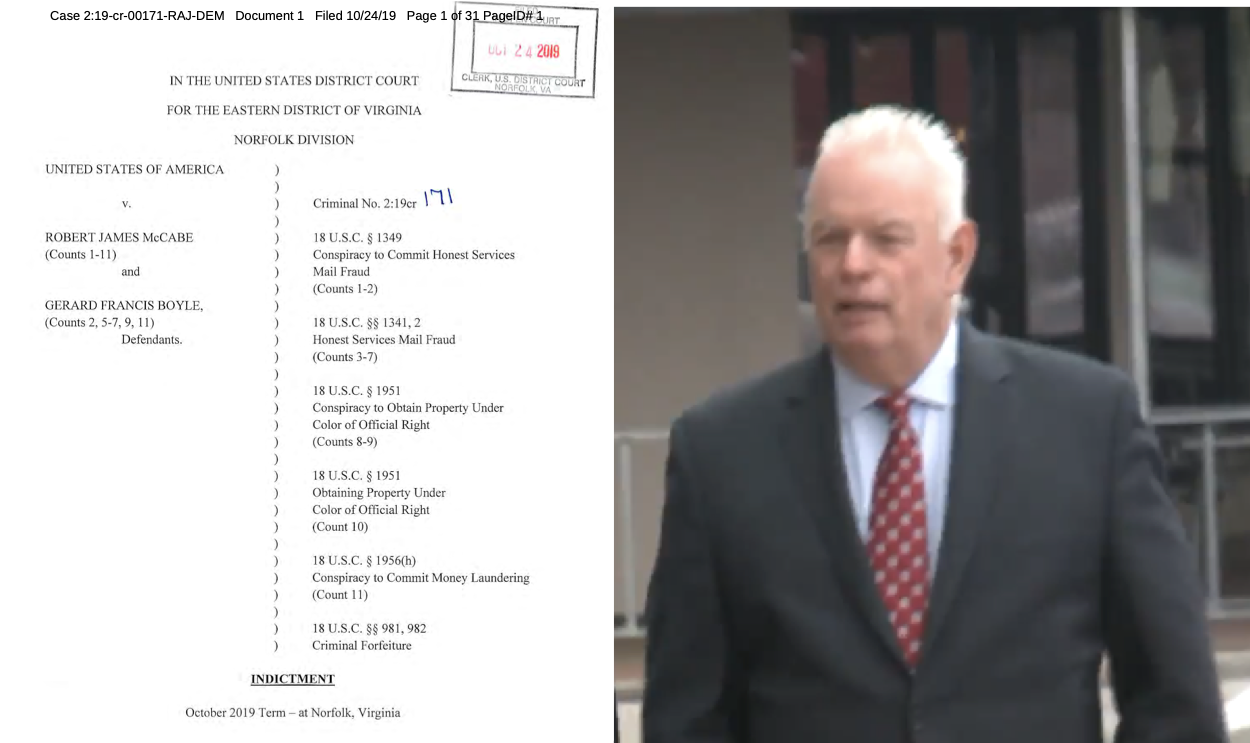 Founder of HIG Capital-owned Wellpath indicted on federal bribery charges
In late October, Gerard Boyle, the founder of Wellpath, a prison and detention healthcare company owned by private equity firm HIG Capital, was indicted on federal bribery charges along with Robert McCabe, the former Norfolk, Virginia Sheriff.
According to allegations in the indictment, between about January 2004 and December 2016, Boyle provided McCabe with cash, travel, a loan, entertainment, gift cards, personal gifts and campaign contributions, in exchange for official actions that favored Boyle's company in connection with the medical services contract, including contract extensions and renewals, as well as inside bidding information.
The indictment filed against Boyle and McCabe is here (link).
Boyle continued to serve as a manager of Wellpath earlier this year, according to state filings. As recently as May 2019, Wellpath called Boyle a "visionary" founder on its website, noting that Wellpath had "adopted his management philosophy as our company's values." Wellpath has since removed references to Boyle.
"The charges against Mr. Boyle are serious, and we have accepted his resignation from all positions with our company," a Wellpath spokeswoman told the Washington Post in October.
Both Boyle and McCabe have pleaded not guilty to the charges.
Boyle's alleged bribery predates HIG Capital's ownership of Correct Care Solutions. In October 2018, HIG Capital acquired Correct Care Solutions from private equity firms GTCR and Audax Group and merged it with Correctional Medical Group Companies, which it had owned since 2012, renaming the combined company Wellpath.
Still, the charges raise questions about the due diligence HIG Capital conducted prior to its acquisition of Correct Care Solutions and highlight the headline risk of HIG Capital's investments in companies providing services to jails, prisons and immigrant detention centers.
HIG Capital is perhaps the most prolific private equity investor in prison and detention companies. In addition to Wellpath, HIG also owns prison and detention food and commissary store provider TKC Holdings. HIG previously owned prison phone company Securus.
Our reports on HIG Capital's prison investments:
In January 2019, Mississippi Attorney General Jim Hood announced that he had recovered over $26.6 million in a series of settlements with companies, including Keefe Commissary, a subsidiary of HIG Capital-owned TKC Holdings, in relation to a bribery scheme involving the former commissioner of the Mississippi Department of Corrections. Keefe was accused of channeling bribes and kickbacks to the commissioner, who was eventually convicted. Of the total settlement, Keefe Commissary agreed to pay $3.1 million. The Mississippi settlement relates to alleged actions by Keefe prior to HIG Capital's 2016 acquisition of the firm.
More recently, Wellpath has drawn media scrutiny for its $5,000 contribution in September 2019 to Loudoun County Sheriff Mike Chapman after county supervisors renewed a $4.7 million contract with the company. In Virginia, it is not illegal for companies that conduct business with counties to donate to local politicians. But criminal justice advocates have raised concerns for how accountable a sheriff can be towards the well-being and safety of incarcerated individuals and staff when they outsource healthcare at the jails to companies that support their election campaigns.
"It does create this perverse incentive to scrimp on the care," said Corene Kendrick, a staff attorney at the California-based Prison Law Center, "because for every lab test not run or a specialist visit not done, that's just additional profit that the company can pocket." Wellpath and Correct Care Solutions have given at nearly $45,000 in campaign contributions to at least six Virginia sheriff candidates over the last dozen years, according to the Virginia Public Access Project. In April 2019, for example, Wellpath made a $2,500 campaign contribution to current Norfolk City Sheriff Joe Baron.
Over the past two years, Correct Care Solutions and Wellpath have been named as defendants in over 500 federal lawsuits nationwide, including in Virginia, according to The Appeal. Complainants have alleged poor mental health services, inadequate treatment of injuries and negligent care that preceded death.
In February, the Private Equity Stakeholder Project along with the American Federation of Teachers, Worth Rises, Color of Change, and the Action Center on Race and the Economy sent a letter to HIG Capital asking the firm to meet and asking it to exit its investments in companies profiting from incarceration and detention.
While we attempted several times to follow up on the letter, HIG Capital never responded.
In September, US Senator Elizabeth Warren and US Representatives Alexandria Ocasio-Cortez and Mark Pocan sent a letter to HIG asking the firm a number of questions about its prison and detention investments.
Recent media coverage: