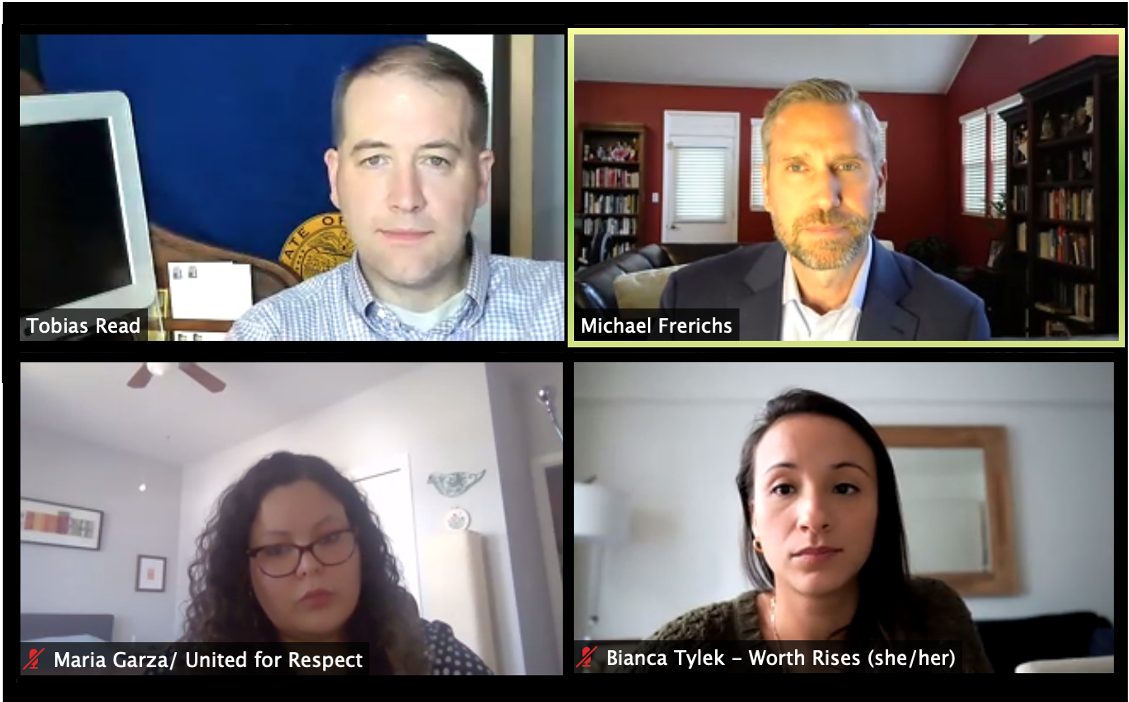 Illinois, Oregon State Treasurers Call on Private Equity Firms to Explain How They Will Manage Risks in Acquiring G4S
Treasurers Demand Public Input in Proposed Corporate Merger Creating the Third Largest Employer
Private equity firms Warburg Pincus and BC Partners should explain how they will manage risks related to workers if they are successful in acquiring G4S, a security firm with 530,000 employees globally, Illinois State Treasurer Michael Frerichs and Oregon State Treasurer Tobias Read said last week.
The Treasurers spoke to a group of institutional investors to discuss the implications of the proposed merger as BC Partners and Warburg Pincus are vying to become one of the largest private sector employers in the world by acquiring G4S. The merged company could have as many as 780,000 employees globally, including hundreds of thousands of employees in the US. Treasurer Deborah Goldberg of Massachusetts also joined the panel.
Representatives from institutional investors with a total of more than $1 trillion in assets, including a number of Warburg Pincus and BC Partners investors, participated in the forum, along with multiple labor groups that represent G4S employees.
BC Partners and its company GardaWorld recently raised their bid to acquire G4S and have indicated that they may raise it further. Allied Universal, owned by Warburg Pincus, has also made an offer to acquire G4S, which G4S' board has backed. Neither proposed acquisition has yet been approved by G4S shareholders.
From the Financial Times, Jan 17, 2021, "US state officials call for greater scrutiny of potential G4S takeover":
'US state officials and unions are calling for greater scrutiny of a potential private equity-led takeover of UK security group G4S, amid concerns that it could harm working conditions for hundreds of thousands of low-wage security guards worldwide.

Michael Frerichs, state treasurer of Illinois and an elected Democrat, whose office manages about $35bn and invests in private equity funds, urged institutional investors to demand greater transparency from both suitors.
"Neither bidder has disclosed to us key aspects of their business plan, including how to manage opportunities and risks in the event of a merger," he said at an online forum organised by the Private Equity Stakeholder Project, a lobby group. "The vast majority of these employees are essential workers, raising the stakes for all stakeholders to review this transaction."
Tobias Read, the state treasurer for Oregon, said he wanted to "learn more about how the companies will handle complicated questions", including how to protect their workers' health amid the pandemic. "Some corporations don't really listen to smaller investors . . . as elected officials we tend to have a larger megaphone," he said.'
From the Globe and Mail, Jan 14, 2021, "Labour groups warn of risks for workers in rival takeover offers for security company G4S":
'I have real questions about how both private equity firms will manage risks related to workers at companies they own," said Michael Frerichs, state treasurer of Illinois.
"This is an especially pressing issue, given that [either company] would see the total number of employees in their portfolio companies more than triple with a G4S acquisition."
G4S has faced allegations that some of its employees abused immigrants in detention centres, and use excessive force when dealing with children.
In 2019, Norway's sovereign wealth fund stopped investing in G4S after investigating the company's operations in the United Arab Emirates and Qatar, where its employees are mostly migrant workers. The probe found the workers had to pay recruitment fees, received far lower wages than agreed, and the migrants' passports were confiscated.'
UNI Global Union, which represents more than 20 million workers from over 150 different countries and oversees the global framework agreement setting labor standards for G4S employees around the world, submitted a statement for the forum, noting:
"We would cast serious doubts on whether Allied Universal management have acquainted themselves with the human rights risks associated with G4S's operations on the African continent, across Asia and even in Europe. Consequently, governments, clients, media, and NGOs will be monitoring and scrutinizing the new company ever so closely."
Related: The Guardian, Jan 18, 2021: "G4S migrant workers 'forced to pay millions' in illegal fees for jobs"
The Treasurers and other investors also heard from Bianca Tylek of Worth Rises about risks related to G4S' private prison and immigrant detention business. G4S runs prisons in a number of countries and supports agencies such as US Immigration and Customs Enforcement (ICE) and the US Border Patrol.
A number of Warburg Pincus' and BC Partners' investors have previously divested from prison and detention companies, meaning they could end up re-investing with Warburg Pincus' or BC Partners' acquisition of G4S. Warburg Pincus/ Allied Universal has said it would evaluate the possibility of divesting all or a significant part of G4S' prison and detention business, but has not yet made a firm commitment to exit the business.
Both Warburg Pincus and BC Partners were invited to participate in the forum, but declined.
The virtual meeting was convened with the Private Equity Stakeholder Project and For the Long Term.