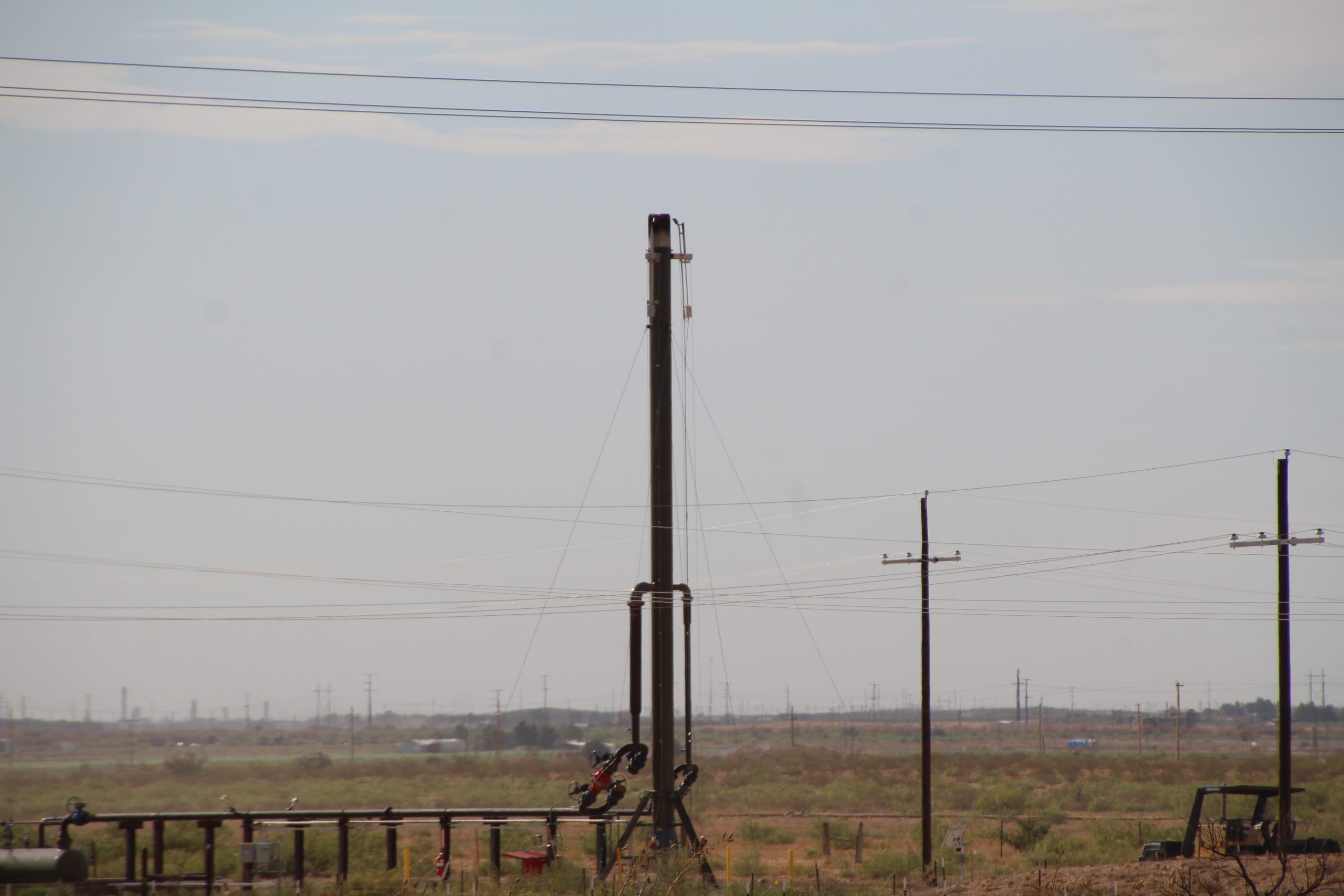 NGP cashes out after polluting New Mexico communities
Deemed one of the top five drillers in the Delaware sub basin in New Mexico, Tap Rock Resources is one of the largest exploration and production platforms in private equity firm NGP Energy Capital Management's portfolio and has a history of emitting harmful pollutants. Now, the firm is in the midst of a multi-billion-dollar deal to offload these polluting assets to another private equity firm and skirt accountability for the harms they have caused as well.
The company was created by NGP in 2016 and has grown through a series of acquisitions of drilling assets, which now covers 35,000 net acres. Tap Rock's net operated daily production is in excess of 100,000 barrels of oil equivalent per day (boepd), and it claims to be of the "premier private companies in the greater Permian Basin." The company has also been responsible for over 600 major gas flaring events since 2017 where harmful pollutants were released, impacting the local community and environment.[1]
NGP, a private equity firm and subsidiary of The Carlyle Group, lists 22 fossil fuel companies alongside Tap Rock on its website, of which the vast majority are upstream oil and gas exploration and drilling companies.[2] Revenue from NGP's energy investments accounted for about half of Carlyle's 2022 profits.[3]
Tap Rock Pollutes New Mexico Communities
Since 2017, according to data from the New Mexico Oil Conservation Division, Tap Rock has reported nearly 4,800 incidents, primarily gas flaring incidents. Over 600 of these incidents were considered "major," meaning unauthorized releases sufficiently large to endanger human health, threaten water sources, or result in a fire.[4] The EPA also issued informal notices at Tap Rock sites, including the Pliny facility in Eddy County near Carlsbad which was deemed a high priority violation of the Clean Air Act, and remained out of compliance over a two-year period between 2020 and 2022.[5]
This video of Tap Rocks' Pliny the Elder Fee well site (provided by Earthworks) captures a flare on April 6, 2023. Flares are designed to burn off methane—a greenhouse gas that is over 80 times more potent than CO2—and break down volatile organic compounds (VOCs) that return to the surface of an actively producing well. However, this video shows the flare is lit, but it is not combusting in any meaningful or effective way, which means dangerous pollutants are escaping into the atmosphere. When VOCs, which include known carcinogens like Benzene, escape into the atmosphere they can put communities living near these facilities at serious risk.[6]
Tap Rock operates in Eddy and Lea counties in New Mexico, a hotbed of drilling activity by multiple companies where the vast majority of people live within one mile of an oil or gas well.[7] An on-the-ground investigation by Earthworks found that many homes surround this Tap Rock facility within a 1,000 feet radius, the closest home being a mere 360 feet away.[8]
Both counties have residents that are a majority people of color and above the state's average, with Latinos making up 52 percent of Eddy County and 62 percent of Lea County.[9]
Data shows Tap Rock reported at least 1,400 flaring incidents due to "normal operations" since May 2021.[10] Routine flaring has been prohibited in the state of New Mexico since 2021. Even still, dozens of companies have continued to vent and flare methane, and state enforcement doesn't have the resources to keep up with pervasive flouting of the law. Companies like Tap Rock should be moving any methane off site to be marketed and used.
Issues at oil and gas sites are not limited to flaring. A variety of air contaminants are emitted throughout the oil and gas development process, and these compounds are released from a number of sources: including condensate tanks, construction activity, dehydrators, engines, fugitive emissions, pits, and vehicles. Across the U.S. the oil and gas industry is putting more than 17 million people's health at risk.
Costly Cleanup Burden
Aside from the harmful pollution the local communities must endure from flaring events, cleanup from private equity-backed oil and gas companies may also place a financial burden on communities.
Tap Rock's operations consist of a combination of private land drilling and public land leases. Through federal drilling permits, Tap Rock paid over $58 billion to extract oil and gas from federal lands from 2017 to 2022.[11] Although the federal government receives modest revenue from drillers like Tap Rock for leasing public lands, taxpayers may be on the hook to cover the clean up costs. If Tap Rock and NGP don't adequately retire the wells at the end of their life, weakness in current laws mean they are not legally bound to remediation.[12] Well cleanup costs also fall short of addressing historic and ongoing impacts to frontline communities.
After years of prolific growth in drilling across the Permian, oil fields are beginning to age out of their productive years. The Wall Street Journal reported that Tap Rock's assets in the Delaware Basin (covering New Mexico) may have less than five years of viable production left, signaling cleanup needs could come before the end of the decade
NGP to Take the Money and Run
The private equity business model centers around finding quick profits in the companies they own before offloading their investments in around five years.[13] With oil prices high, NGP is ready to cash out. The firm recently entered a deal with Civitas Resources to sell most of Tap Rock's Delaware Basin assets for $2.45 billion dollars, which would also transfer Tap Rock's emissions and accountability for the harms caused to another private equity-backed company.
Civitas was created in 2021 by private equity firm Kimmeridge Energy Management which is backed by Canada's largest public pension fund[14] and claims to be "Colorado's first carbon-neutral energy producer." Civitas also acquired Bonanza Creek Energy which had its own history of environmental compliance issues with over $300,000 worth of penalties levied against them from the Colorado Oil and Gas Conservation Commission.[15]
Alongside the Tap Rock assets, NGP also agreed to sell off Hibernia Resources's Midland Basin assets to Civitas for $2.25 Billion. Now in final negotiations, the combined $4.7 billion deal will contribute to NGP's latest fundraising efforts as it seeks to raise its latest flagship natural resources fund, NGP Natural Resources XIII, which will likely maintain the firm's scheme in investing in North American upstream oil and gas.
NGP's sale of Tap Rock and Hibernia comes after years of oil and gas production with health impacts on communities near the drilling assets—primarily communities of color—and contributing to the global climate crisis. The deal includes approximately 68,000 net acres and is estimated to increase Civitas' production by 60 percent.
At a time when advocates, local communities, and governments are sounding the alarm over the escalating climate crisis, firms such as NGP and Carlyle continue to invest in oil and gas operations. By offloading polluting assets and continued investing in oil and gas, NGP is not aligned with the International Energy Agency's 1.5 C degree pathway or with a just transition framework, as outlined in the Demands for Private Equity. In fact, NGP and Carlyle were ranked the worst climate offenders in the recent Private Equity Climate Risks Scorecard, in which Carlyle and its subsidiary received an 'F' grade. As companies such as NGP continue to contribute to climate chaos, local communities and average taxpayers will be the ones to bear the consequences of continued drilling.
---
*This blog includes analysis of a dataset of private equity ownership of energy companies and assets developed jointly by researchers from Americans for Financial Reform Education Fund, Global Energy Monitor, and Private Equity Stakeholder Project.

---
[1]  New Mexico Energy, Minerals and Natural Resources Department. Oil Conservation Division. Incident Search database. Accessed March 23, 2023.
[2]  https://ngpenergy.com/portfolio/#natural-resources accessed Aug. 27, 2023
[3] Carlyle's annual SEC filing for 2022 indicated investment income from oil and gas subsidiary NGP Energy generated $660 million on net profits of $1,284.7 million. NGP is not Carlyle's only energy investment. The Carlyle Group. US Securities and Exchange Commission. Form 10-K For The Fiscal Year Ended December 31, 2022. Washington, DC. See pp. 120 and 118, respectively. Accessed February 15, 2023.
[4] New Mexico Energy, Minerals and Natural Resources Department. Oil Conservation Division. Incident Search database. Accessed March 23, 2023.
[5] New Mexico State Records Center and Archives. New Mexico Administrative Code. 19.15.29 NMAC. Accessed March 23, 2023.
[6] Holder, Chris et al. "Evaluating potential human health risks from modeled inhalation exposures to volatile organic compounds emitted from oil and gas operations". Journal of Air & Waste Management Association. Published November 7, 2019. https://www.tandfonline.com/doi/full/10.1080/10962247.2019.1680459
[7] Roberts, Kate. "Demographic Characteristics of Populations Living Near Oil and Gas Wells in the
United States." Tableau data visualization tool. Published: June 13, 2022 (Updated: December 22, 2022). Accessed March 23, 2023; For the visualization data sources see: Proville, J., Roberts and Kate Roberts. "Creating Data to Support Communities on the Front Lines of Oil and Gas Production in the US." Environmental Defense Fund. Blog post. June 21, 2022. Accessed Marche 23, 2023.
[8] Earthworks field investigator used a rangefinder hypsometer in comination with google maps
[9] US Census Bureau. QuickFacts. Eddy County, New Mexico. Population estimates for 2021. Accessed March 23, 2023; US Census Bureau. QuickFacts. Lea County, New Mexico. Population estimates for 2021. Accessed March 23, 2023; US Census Bureau. QuickFacts. New Mexico. Population estimates for 2021. Accessed March 23, 2023
[10] New Mexico Energy, Minerals and Natural Resources Department. Oil Conservation Division. Incident Search database. Accessed August 30, 2023.
[11] "Federal Revenue by Company." Natural Resources Revenue Data. https://revenuedata.doi.gov/downloads/federal-revenue-by-company/
[12] "Bennet Urges Secretary Haaland to Reform Outdated Oil and Gas Bonding Rates to Ensure Companies, Not Taxpayers, Pay Cleanup Costs of Wells Drilled on Federal Lands." Micheal Bennet. Published December 22,2022 https://www.bennet.senate.gov/public/index.cfm/2022/12/bennet-urges-secretary-haaland-to-reform-outdated-oil-and-gas-bonding-rates-to-ensure-companies-not-taxpayers-pay-cleanup-costs-of-wells-drilled-on-federal-lands
[13] "2021 Annual US PE Breakdown" Pitchbook. https://files.pitchbook.com/website/files/pdf/2021_Annual_US_PE_Breakdown.pdf
"CPP Investments Net Assets Total $536 Billion at Third Quarter Fiscal 2023." CPP Investments. https://www.cppinvestments.com/public-media/headlines/2023/cpp-investments-net-assets-total-536-billion-at-third-quarter-fiscal-2023/
[15] "COGCC 2nd Quarter 2019 HB 14-1356…" https://ecmc.state.co.us/documents/reg/Enforcement/2019_2Q_HB1356_Report.pdf