PESP endorses Jayapal's Healthcare Ownership Transparency Act
Last month, U.S. Representative Pramila Jayapal (WA-07) introduced new legislation to combat private equity's negative influences in the American healthcare system. The federal bill, also known as the Healthcare Ownership Transparency Act (HOT Act), would help to stem private equity's worsening entrenchment in hospitals and healthcare services. The HOT Act would:
Require the disclosure of information from private equity funds involved in healthcare including the identities of those with interests in the fund and their ownership interests, the debt held by the fund and its covered healthcare firms, the performance of the portfolio companies, and fees and payments collected by the firm, and all political spending related to healthcare by the private equity fund and affiliates. Disclosure would occur through the Provider Enrollment, Chain, and Ownership System (PECOS), a Centers for Medicare and Medicaid Services (CMS) provider enrollment and revalidation process.

Direct the Government Accountability Office (GAO) to write a report on how healthcare consolidation and private equity contribute to various health quality and cost indicators, including cost to charge ratios, payor mix, quality ratings, regulation compliance violations, staffing levels and ratios, and employee wages among others




Direct the Secretary of the U.S. Department of Health and Human Services (HHS) to create a task force to identify best practices and provide regulatory and legislative recommendations to Congress to address the adverse effects of healthcare consolidation and private equity's involvement in healthcare




Allow the Secretary to prohibit private equity firms from gaining control of covered healthcare firms until the effects of private equity ownership on healthcare entities are understood by the task force.
PESP Healthcare Director Eileen O'Grady joined Rep. Jayapal and Rob Weissman, President of Public Citizen, at a press conference to announce the legislation and reinforce support of its passage. PESP thoroughly endorses the Healthcare Ownership Transparency Act.
"Private equity and consolidation in our health care system lead to worse outcomes and higher bills for patients," said Congresswoman Jayapal. "Health care is a human right and the care people receive shouldn't be determined by an investor's bottom line. My HOT Act will shine a light on the dangers of private equity in our healthcare system and move us toward accountability for providers and patients."
"Wall Street vultures are swooping down and picking apart health care providers, making a broken health care system even worse," said Robert Weissman, President of Public Citizen. "This bill would help us finally begin to identify the private equity vultures that are lowering the quality of care across the nation. It is a crucial first step in creating accountability and protecting patients."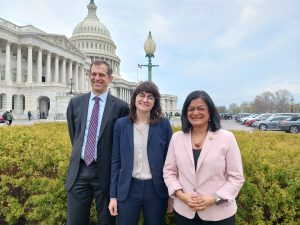 Eileen gave the following remarks in support of this important piece of legislation:
"As a watchdog organization dedicated to understanding the impacts of the increasing influence of private equity in our economy, and its impact on people, PESP is proud to endorse the Healthcare Ownership Transparency Act.
Our mission is to empower communities, working families, and others impacted by private equity and the broader financial industry. And because the private equity industry is so huge, those impacts are widely felt, even if we don't always recognize when a private equity firm is behind them. In fact, we've seen private equity investing in and influencing virtually every aspect of the healthcare industry, from mental health and addiction treatment to motorized wheelchair parts.   
We have seen that PE ownership of nursing homes can increase the mortality rate of Medicare patients by 10%. We have seen that PE firms are some of the biggest culprits behind surprise medical billing. And we have seen that firms have found ways to circumvent laws prohibiting the corporate practice of medicine, by creating management companies for gastroenterology, cardiology, and other kinds of physicians' practices.
At the Private Equity Stakeholder Project, we have found that almost one in 10 private hospitals in the US are owned by a private equity firm. Over a third of those are hospitals that serve rural communities. Many are safety net hospitals, serving poor and uninsured patients.
And this is really troubling. Because we have seen time and time again that the private equity business model – which is intensely focused on maximizing quick profit at all costs – is often at odds with providing quality care. We have seen that private equity's healthcare profiteering has resulted in dangerous conditions, declining quality, Medicare and Medicaid fraud, increased costs, and closures of vital services. And that these consequences have been alarmingly borne by healthcare workers and the communities they serve.
I'll give you an example: Prospect Medical Holdings is a safety net hospital chain that was for 10 years owned by a PE firm called Leonard Green & Partners. Over the course of its ownership, Leonard Green siphoned hundreds of millions of dollars in dividends and fees from the hospital chain even as its hospitals suffered atrocious conditions – holes in the ceiling where the rain came through, failing to pay for medical supplies or gas for ambulances, safety issues that led to CMS designating hospitals with "immediate jeopardy" status, and it permanently shuttered a hospital in San Antonio and sold the real estate to a luxury hotel developer. 
Leonard Green, meanwhile, lined its pockets and left the communities Prospect serves desperate and without concrete ways to hold the company accountable. 
I worry that what we know about PE's profiteering in healthcare is just the tip of the iceberg. And it has been nearly impossible to hold PE firms accountable even when it's clear that their financial tactics harm patients and workers. That's because private equity firms largely operate in the shadows. These firms rely on the fact that there is very little oversight over what they do and how they make their money.
One clue we have about this: we have seen the largest concentration of PE-owned hospitals in states where there is little to no regulation of for-profit hospital ownership. In the worst cases, these companies have free reign to use healthcare providers as their personal piggy banks. 
Now I want to be clear. We know that the intense focus on profit isn't unique to private equity, we see this at all kinds of companies including unfortunately at some non-profit providers. But, private equity amplifies and exacerbates these kinds of extractive tendencies, and it gets away with it because complex corporate structures shield firms from transparency and accountability.
It's therefore critical for policymakers to pass legislation, and for regulators to propose rules that increase transparency and accountability for private equity investments in healthcare. Representative Jayapal's Healthcare Ownership Transparency Act is a critical step creating the tools necessary to shed light on the impacts of private equity healthcare profiteering and giving stakeholders the means to hold Wall Street accountable."
---
Read about Rep. Jayapal's legislation here.