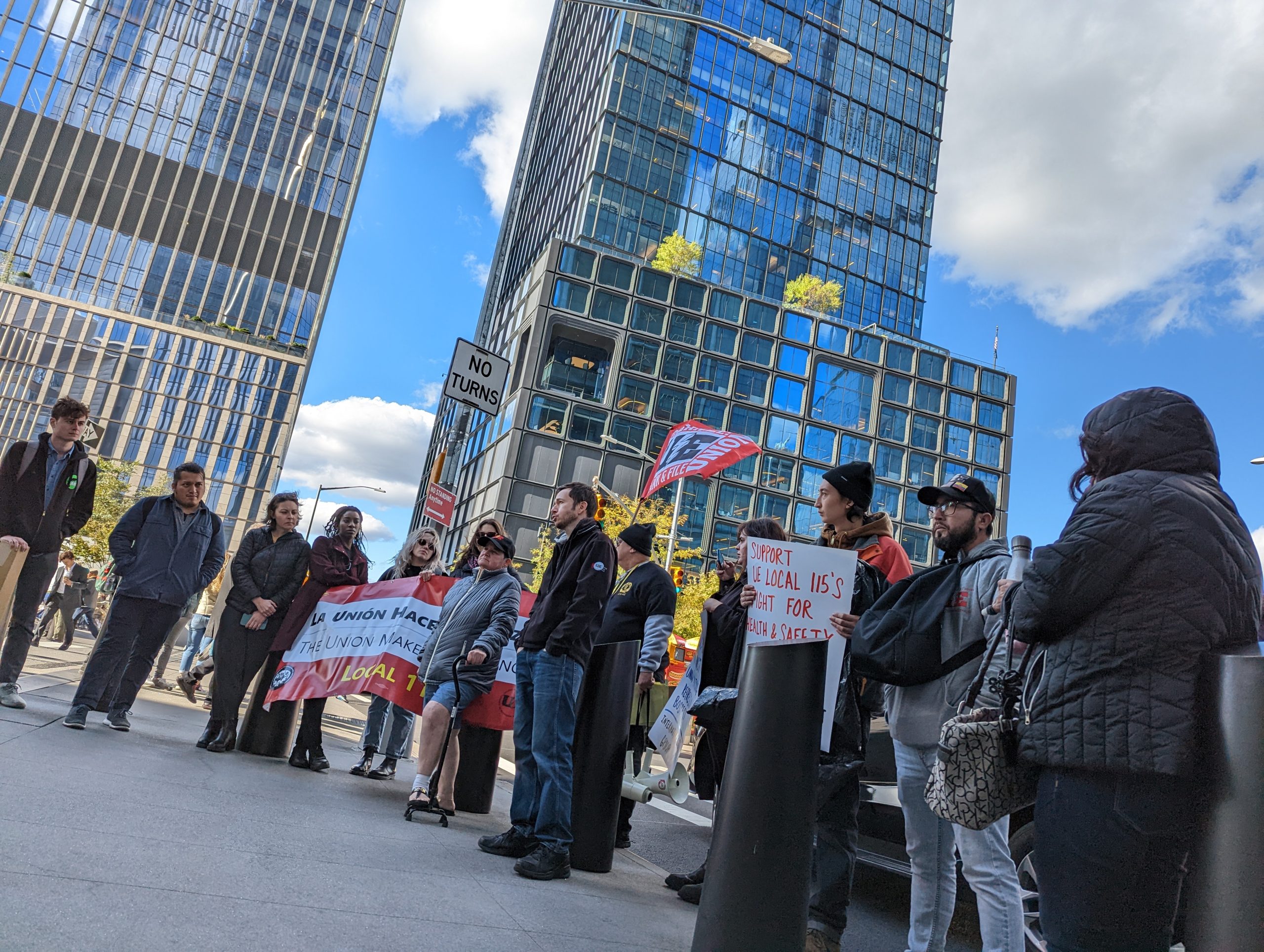 PESP Supports Refresco Worker Delegation to KKR New York City Headquarters
A delegation of workers from the Refresco bottling plant in New Jersey delivered petitions last week to the corporate headquarters of KKR, the private-equity firm that owns a majority stake in their company.
Workers traveled to New York City to deliver the petition and to meet with major institutional investors in that firm. The workers are members of UE Local 115, and are currently in negotiations for a first union contract. As negotiating committee member César Moreira explained, they are fighting for "three basic demands" which are "things that everyone should have as a right" — decent wages and benefits, health and safety at work, and fair schedules.
"I've been working at Refresco for 23 years. In those 23 years I've had five accidents," said Refresco worker Licinia Ochoa, as workers and allies gathered on the sidewalk outside of the gleaming Hudson Yards skyscraper in Manhattan. "One of them you can see here on my leg," she said, gesturing towards a scar on her left knee. "I fell at the plant during work hours and I'm still dealing with Refresco over this issue."
KKR Headquarters, located at 30 Hudson Yards, were built with over $1 billion in public subsidies over the past decade. The building is also home to a private building security force who stopped UE members as soon as they entered the building, seeking to meet with KKR. The Local 115 members wanted to deliver a petition, signed by over 600 consumers, demanding that Refresco negotiate a fair first contract with Local 115. After security threatened to call the police and "lock up" the union members, KKR security eventually came outside and received the petitions, refusing a substantive meeting about issues in the plant. 
Although KKR repeatedly refused to meet with the workers while they were in New York, members of their company security force did eventually emerge from the building and spoke with UE members on the sidewalk outside. The KKR security listened and said that they would report workers' messages to the KKR staff, and that they would give the petitions to KKR.
Charlie Uruchima from the New York Committee for Occupational Safety and Health (NYCOSH) and Justin Flores from the Private Equity Stakeholder Project (PESP) spoke at the workers' rally. Uruchima highlighted the efforts of the National Coalition for Occupational Safety and Health and its affiliates like NYCOSH to support Refresco workers in fighting for a safe and healthy workplace. Those efforts included highlighting Refresco in their 2022 "Dirty Dozen" report, which draws national attention to companies with particularly bad health and safety records, and sponsoring the online petition which workers were seeking to deliver. 
"We're going to keep supporting them while they go to the finish line" of a first union contract, he promised.
Flores said, "Companies like KKR shouldn't be getting rich off the backs of workers and communities. We're here to say, that's enough. We're going to go talk to some of their investors shortly after this and spread the message that enough is enough."