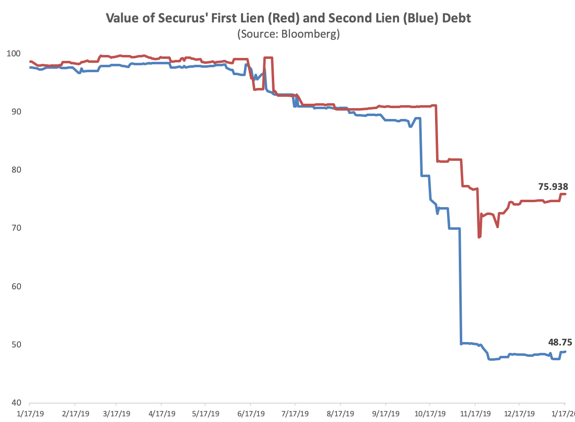 Platinum Equity's prison telecom company Securus sees debt trade at up to 50 percent discount
Private equity firm Platinum Equity owns Securus, one of the largest prison and jail phone and communications companies.
Securus has drawn criticism from advocates for charging exorbitant fees and call rates to families with incarcerated relatives, costs that disproportionately impact communities of color and poverty.
See our report from last year, "Platinum Equity's Not So Securus Investment" here.
The families affected by Securus' predatory rates require urgent changes. Instead, Platinum Equity recently announced a set of vague commitments that do not address the corporation's exploitative practices. These proposed changes have no mechanism for accountability and, in some cases, raise critical concerns. To learn more about the announcement and its shortcomings, go here.
Meanwhile, over the last few months the debt markets have been sounding alarms about Platinum Equity's investment in Securus.
The value of Securus' debt has recently plummeted, Bloomberg reported late last year. At the beginning of 2019, Securus' debt was trading at par, but in the last three months, Securus' first lien debt has traded as low as 68 cents on the dollar and its second lien debt as low as 45 cents on the dollar.
In fact, the entire prison telecom industry is being dragged down with it: Global Tel Link, owned by American Securities, has seen the value of its debt drop by more than 10%. HIG, which owns competitor ICSolutions, just announced plans to quickly unload the company after Platinum Equity's failed attempt to acquire it last year.
Securus' plummeting debt value suggests that investors no longer have faith in Platinum Equity's ability to recoup its investment in the company. Some investors are so eager to get their money out of Securus that they are willing to accept a 50% loss on their investment, suggesting that they believe that Securus may default on its debt.
Nearly a year ago, the Private Equity Stakeholder Project along with Worth Rises, Color of Change, the American Federation of Teachers, and the Action Center on Race and the Economy provided Platinum Equity with a set of proposals that would help the firm improve and ultimately exit Securus. Even as the company's debt sinks, Platinum Equity has continued to ignore these proposals and most recently, it cancelled a meeting with families directly impacted by the incarceration of a loved one. Instead, the firm tried to hide its connection to Securus through a rebrand, shuffle corporate executives, and make an empty commitment to vague reforms.
Recent media coverage:
Bloomberg (Terminal only), Nov 6, 2019: "Under Fire for Prison Profits, Securus Leveraged Loan Plunges"