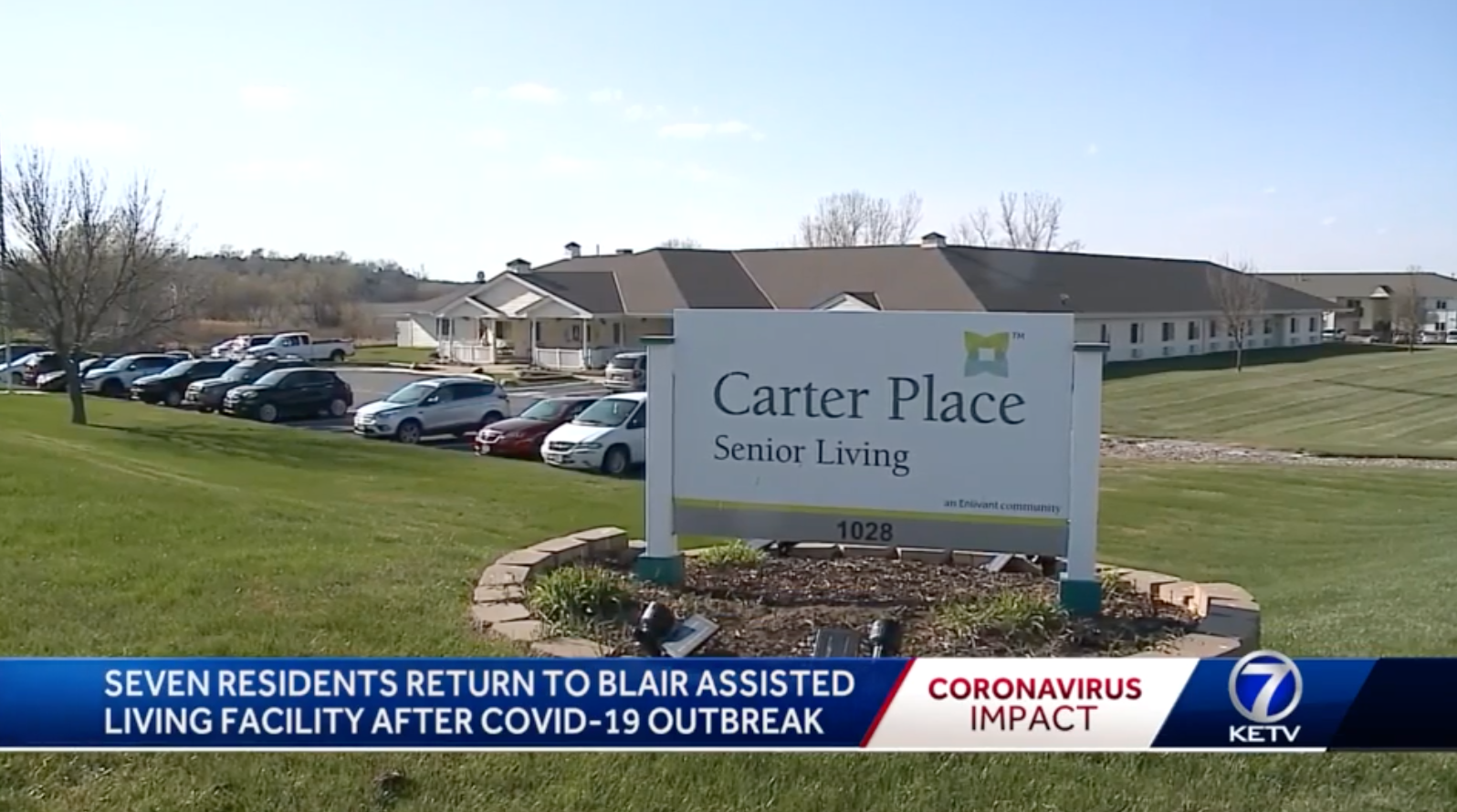 Private Equity-Backed Nursing Homes Fail COVID-19 Test
Private equity ownership of nursing homes has drawn substantial scrutiny in recent years, from HCR ManorCare's increasing health code violations leading up to its bankruptcy to Golden Living's lawsuits and regulatory violations.
An academic study published in February found that private equity buyouts affected quality of care in nursing homes, citing "robust evidence of declines in patient health and compliance with care standards," largely due to cuts to front-line nursing staff.[i]
Now, as coronavirus ravages nursing homes across the country, private equity-backed nursing homes may be more vulnerable than ever.
Consulate Health Care – Formation Capital
Reports of mismanagement of a coronavirus outbreak at a Consulate Health Care nursing home in Virginia come as the company fields numerous outbreaks at its facilities in multiple states.
Orlando-based Consulate Health Care is Florida's largest nursing home company and one of the largest in the United States.[ii] In addition to Florida, Consulate operates nursing homes in Kentucky, Louisiana, Mississippi, Missouri, North Carolina, Pennsylvania, and Virginia.[iii] It is owned by private equity firm Formation Capital.[iv]
Numerous Consulate nursing homes have experienced coronavirus outbreaks. Positive cases have been reported in at least five of its facilities in Florida, according to a list released by the state Department of Public Health.[v]Each of the facilities has a one- or two-star rating from the Centers for Medicare and Medicaid Services (CMS), the lowest possible quality ratings.[vi]
At least three Consulate facilities in Virginia have coronavirus outbreaks: Envoy of Williamsburg, Consulate Health Care of Windsor, and Envoy at the Village in Forks Union. All three facilities have one-star ratings from CMS.[vii] CMS has also flagged Envoy of Williamsburg with a "Customer Alert," indicating it has been cited for potential issues related to abuse.[viii]
A nurse employed at Envoy of Williamsburg said that Consulate's corporate office told staff they were not allowed to test patients with coronavirus symptoms, and intercepted patients' testing kits before they could be tested. A memo sent to the director of nursing said "No testing in the center by anyone. If local health recommends testing, send resident out to hospital."[ix]
Another employee said that staff could only wear masks if they were going into the rooms of patients in isolation, and that previously the staff were told they could not wear masks because it was making the residents uncomfortable.
This is not the first time Consulate Health Care has come under scrutiny. A 2018 report by USA Today Network – Florida investigated Consulate's corporate structure and track record with regulatory violations. It found that Florida Agency for Health Care Administration (AHCA) has repeatedly cited Consulate homes for patient neglect and mistreatment.
Enlivant – TPG Capital
Chicago-based Enlivant operates 230 independent living, assisted living, memory care and short-term stay communities in 27 states.[x] It is majority owned by private equity firm TPG.[xi]
In late March, Enlivant's Carter Place in Blair, Nebraska became the first facility in the state to evacuate due to widespread coronavirus infections among residents and employees. Employees at Carter alleged that "absolute blatant neglect" led to the outbreak. After the first resident tested positive, a manager told employees over a group text that if they self-quarantined they would be "self-terminated."
An Enlivant spokesperson said starting on March 21, all symptomatic employees were told to self quarantine with no doctor's note required.[xii]
Whistleblowers also said that the nursing home did not have a thermometer to take residents' or employees' temperatures until March 21. Even after that, fevers of over 100 degrees were reportedly disregarded.[xiii]
The Nebraska Department of Health and Human Services conducted a separate investigation finding that "the facility did protect residents from infection." The Blair Police Department is conducting a separate investigation of the facility's compliance with health measures. Carter Place reopened to residents on April 15.[xiv]
Enlivant also owns Greenwood Place in Marietta, Georgia, where at least seven residents have tested positive.
Enlivant reportedly did not require staff or residents at Greenwood Place to wear protective equipment until after its first positive cases were confirmed on March 22. The facility practiced social distancing for three days as it awaited the test results.[xv]
TPG acquired Enlivant, then called Assisted Living Concepts, in a 2013 buyout.[xvi] In January 2018, Sabra Health Care REIT acquired a 49% stake in Enlivant's real estate with the option to purchase the remaining majority interest from TPG in three years (January 2021).[xvii]
Top Private Equity-Owned Nursing and Long Term Care Facilities
Name
Services
PE Owner(s)
Golden LivingCenters
Long term care, nursing homes, hospice, home care
Fillmore Capital Partners
Kindred Healthcare/Kindred at Home
Long term care/home health, rehabilitation services, hospice, community care
TPG, Welsh, Carson, Anderson & Stowe, Humana
Life Care Companies
Senior living, elder care
McCarthy Capital
Kindred Healthcare (Nursing Facility Business)
Long term care, nursing homes, hospice, home care
BlueMountain Capital Management
Plum Healthcare Group
Long term care, nursing homes, hospice
Bay Bridge Capital Partners
Consulate Health Care (fka LaVie Care Centers)
Skilled nursing, rehabilitation
Formation Capital, Senior Care Development
Interim HealthCare
Home care and hospice staffing franchise
Levine Leichtman Capital Partners
Holiday Retirement/Harvest Management
Assisted living
Fortress Investment Group
Reliant Rehabilitation
Rehabilitation services contractor to SNFs
H.I.G. Capital
Enlivant
(fka Assisted Living Concepts)
Senior living
TPG Capital, Sabra Health Care REIT
Erickson Living
Senior living
Redwood Capital Investments
Covenant Care
Assisted living
Centre Partners, Bregal Partners
InnovAge
Senior care
Welsh, Carson, Anderson & Stowe
Compassus
Hospice
TowerBrook Capital Partners and Ascension Health
Mission Health Communities
Skilled nursing, senior living, home health
Skyway Capital Group
Curo Health Services
Home care, hospice
TPG, Welsh, Carson, Anderson & Stowe (+ Humana)
Extendicare (U.S. Business)
Long term care, nursing homes, home health
Formation Capital, Safanad
Golden Living (A Portfolio of 17 Facilities in California)
Long term care, nursing homes
BlueMountain Capital Management
---
[i]https://papers.ssrn.com/sol3/papers.cfm?abstract_id=3537612
[ii]https://finance.yahoo.com/news/consulate-health-care-announces-temporary-185700064.html
[iii]https://centers.consulatehealthcare.com/site-map/US
[iv] Formation Capital acquired LaVie Care Centers from Warburg Pincus in 2011 and subsequently acquired Consulate Health Care in 2012, combining the companies under the corporate name Consulate Health Care.
[v]https://floridahealthcovid19.gov/wp-content/uploads/2020/04/LTCF-List-041920.pdf
[vi]https://www.medicare.gov/nursinghomecompare/results.html#state=FL&name=consulate&lat=0&lng=0
[vii] CMS nursing home compare, accessed April 20, 2020.
[viii]https://www.medicare.gov/nursinghomecompare/profile.html#profTab=0&ID=495235&Distn=6863.5&state=VA&lat=0&lng=0&name=envoy
[ix]https://wydaily.com/local-news/2020/03/27/exclusive-envoy-of-williamsburg-wont-test-residents-for-coronavirus-staff-say/
[x]https://www.enlivant.com/acquisitions
[xi]https://www.tpg.com/sites/default/files/2018-01/TPG%20Portfolio%20Companies_Full%20List_1.08.18.pdf
[xii] https://www.3newsnow.com/news/investigations/employee-absolute-blatant-neglect-led-to-outbreak-at-blairs-carter-place
[xiii]https://www.3newsnow.com/news/investigations/employee-absolute-blatant-neglect-led-to-outbreak-at-blairs-carter-place
[xiv]https://www.ketv.com/article/carter-place-back-open-after-covid-19-outbreak/32162680
[xv]https://www.mdjonline.com/news/marietta-case-shows-long-term-care-facilities-may-be-in/article_b038e9e4-6d67-11ea-a3c2-47de105ceb07.html
[xvi]https://seniorhousingnews.com/2013/07/14/private-equity-firm-tpg-closes-280-million-buyout-of-assisted-living-concepts/
[xvii]https://seniorhousingnews.com/2017/09/19/sabra-to-acquire-49-stake-in-1-62-billion-enlivant-portfolio/