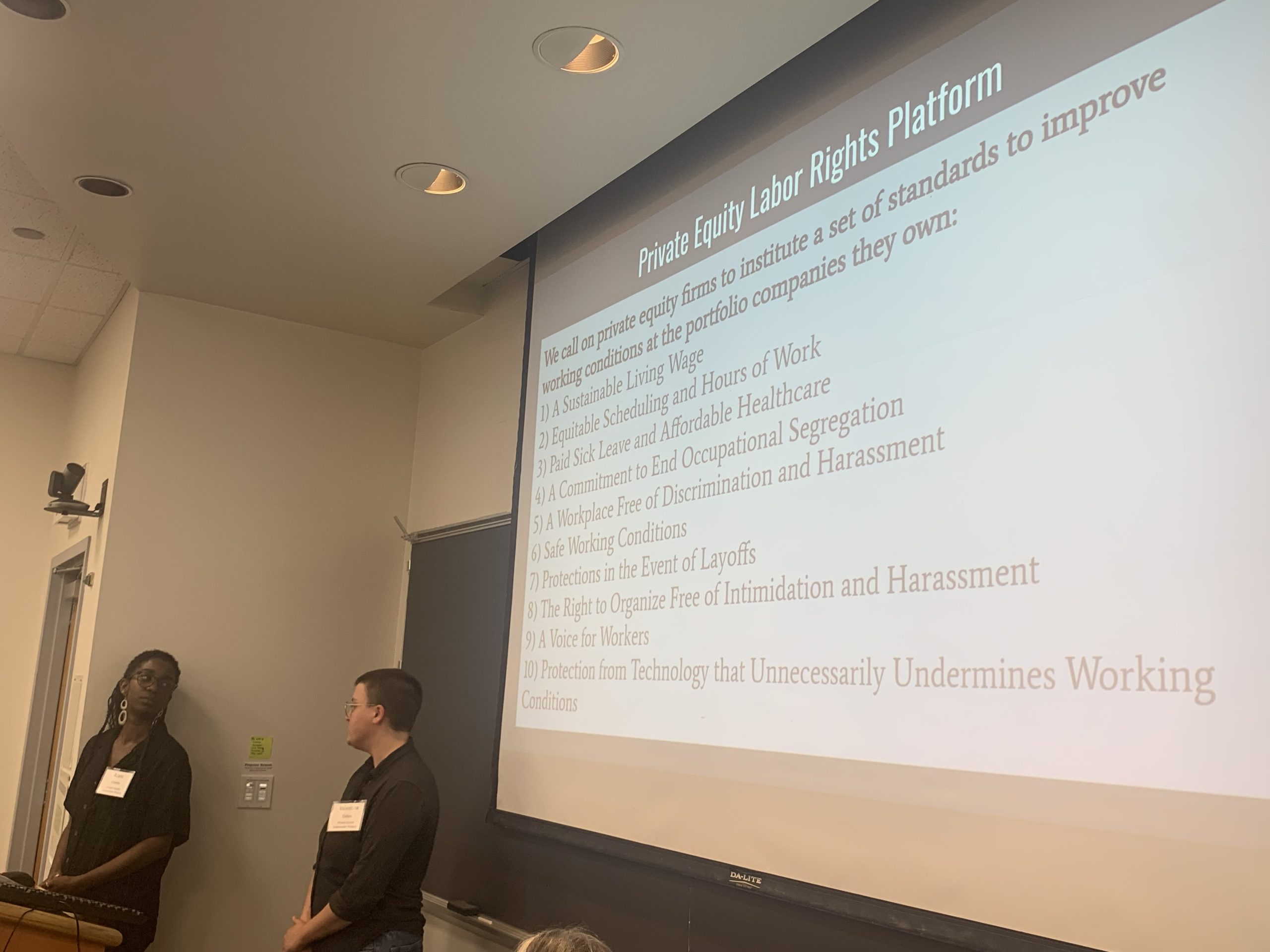 Private Equity impacts featured at the Labor Research and Action Network 2023 Conference
PESP researchers Valentina Dabos and Azani Creeks led a panel discussion on private equity and labor organizing at the 2023 Labor Research and Action Network (LRAN) conference in Washington, DC, earlier this month.
Pointing out the unique features of private equity, Dabos and Creeks explained how private equity investments are not publicly traded on an exchange, therefore there is little regulation or public disclosure, which makes researching them tougher and also often allows firms to negatively impact stakeholders moreso than if there were more oversight.
PESP noted that one of the main reasons to pay attention to private equity is that they are an incredibly large and growing employer that:
Employs 11 million people in the US alone, and that number is growing rapidly

Notoriously drastically reduces workforces and drives companies into bankruptcy. 

Pools investments and buys up companies

Attempts to make the portfolio companies more profitable before selling them by squeezing profits and cutting corners to make companies — the burden of which is often borne by the workers. These cost-cutting measures can lead to poor management and training, more dangerous working conditions, lower wages, less hours, and mass layoffs.  
PESP described how private equity firms are able to shield themselves from backlash because they aren't direct employers. But these companies also have to respond to their investors who are often pension funds or endowments — groups that might not want to see their investment used to reduce labor standards.
PESP has supported many campaigns where workers are standing up to their private equity employers. LRAN participants heard details of these campaigns from workers at BC Partners-owned PetSmart, ArtVan, KKR-owned Refresco, many Blackstone and Sycamore Partners-owned portfolio companies, and Cerberus-owned Safeway.
Private equity firm Cerberus Capital Management bought Albertsons through a leveraged buy-out in 2013. In 2015, Albertson's bought Safeway for $9.2 billion. Cerberus borrowed approximately $7.8 billion to finance the transaction.
Safeway worker and UFCW member Jane St. Louis joined the private equity panel and spoke about her working conditions under a private equity-owned company and their fight for an improved contract. Jane has worked at Safeway in Damascus, Maryland for more than 26 years, serving currently as File Maintenance Clerk and shop steward. She was a member of the Giant & Safeway Bargaining Advisory Committees in 2013 and 2016.