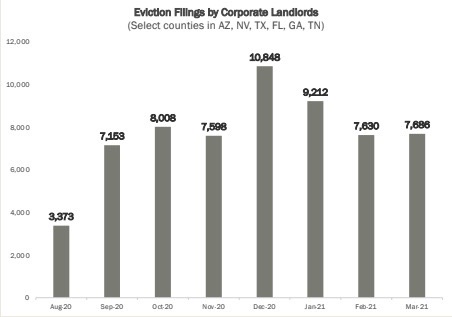 Private Equity Stakeholder Project Presents Eviction Data on National Low Income Housing Coalition call
Private Equity Stakeholder Project Executive Director Jim Baker presented data on the National Low Income Housing Coalition's (NLIHC's) National Call on the HoUSed Campaign for Universal, Stable, & Affordable Housing. Baker spoke after a representative from the CFPB talked about their work to investigate evictions by multi-state landlords.
Baker reported that at least 57,000 eviction actions were filed by large corporate landlords since the CDC moratorium took effect in September 2020.
The companies that have filed evictions since the CDC eviction moratorium was announced also include affiliates of a number of large asset managers with trillions of dollars in assets combined, including The Carlyle Group, Morgan Stanley, Eaton Vance, Prudential, UBS, JPMorgan, New York Life, Nuveen/TIAA-CREF, LaSalle Investment Management, Highland Capital, Angelo Gordon & Co, and AEW Capital Management.
In some counties, eviction filings by private equity firms and other corporate landlords have accounted for the overwhelming majority of cases For example, in DeKalb County, Georgia, large landlords filed over 84% of eviction actions in some weeks.
Affiliates of some of the largest landlords in the country have filed to evict tenants since the CDC moratorium was announced in September 2020, including Greystar Real Estate Partners (693,000 apartments managed, 140,000 owned), Mid America Apartment Communities (100,000 apartments), Invitation Homes (80,000 rental homes), Starwood Capital (75,000+ apartments and rental homes), and Yes! Communities/ Stockbridge Capital (56,000 mobile home sites).
Baker also reviewed the latest data from PESP's report Pandemic Evictor: Don Mullen's Pretium Partners Files to Evict Black Renters, Collects Billions from Investors.
He described how since the beginning of 2021, Pretium Partners' Progress Residential and Front Yard Residential have filed to evict residents in majority-Black DeKalb and Clayton Counties in Georgia at much higher rates than they have in majority-white Seminole and Polk Counties in Florida. Additionally, Front Yard Residential has also drawn complaints from predominantly Black residents in Minneapolis who say the company is failing to maintain their homes.