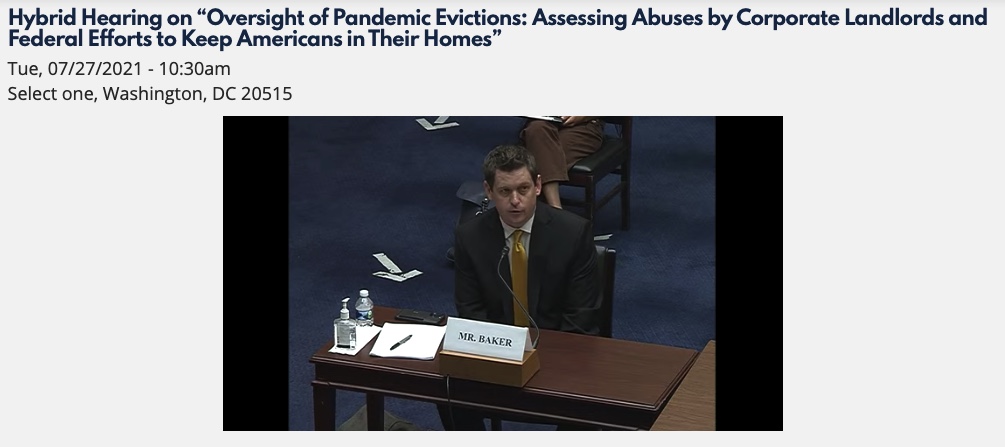 Private Equity Stakeholder Project to Congress: Seek Penalties against Corporate Landlords that Violated the Eviction Moratorium; Assess Potential Civil Rights Violations; Require Corporate Landlords to Work with Renters to Access Available Assistance
Private Equity Stakeholder Project Executive Director Jim Baker testified at a Hearing of the House Select Subcommittee on the Coronavirus Crisis, along with affected renters, the National Low Income Housing Coalition and others on Tuesday morning on Capitol Hill.
Select Subcommittee on the Coronavirus Crisis Hybrid Hearing on "Oversight of Pandemic Evictions:  Assessing Abuses by Corporate Landlords and Federal Efforts to Keep Americans in Their Homes"
Baker presented information to members of the subcommittee detailing how private equity firms and other corporate landlords have filed to evict at least 75,000 residents since the CDC eviction moratorium took effect last September in the dozens of counties where the Private Equity Stakeholder Project has been tracking eviction filings.
Private Equity Stakeholder Project testimony for the hearing
These eviction actions could result in the displacement of large numbers of residents. At the very least, they may remain on residents' records for years to come and could impact their access to safe, stable, and affordable housing. Baker explained how these filings have disproportionately impacted residents of color, particularly Black renters, and how in some cases, corporate landlords have refused to accept rental assistance even after their residents have been approved for it.
Baker noted that an organization violating the CDC eviction moratorium may be subject to a fine of up to $200,000 per event or $500,000 per event if the action results in death.  He recommended that the subcommittee should recommend action by the US Department of Justice to seek penalties from landlords that have violated the moratorium.
Specifically, Baker recommended that the subcommittee should assess whether any landlords violated residents' civil rights by disproportionately filing to evict Black renters or other renters of color. An April report by the Private Equity Stakeholder Project found that Progress Residential and Front Yard Residential have filed to evict residents in majority-Black counties in Georgia at much higher rates than they have renters in majority-white counties in Florida.
Baker also recommended that corporate landlords should be required to work with residents to access the billions of dollars in rental assistance that remain available. As we reach the July 31 expiration of the federal eviction moratorium, the fact that some landlords have refused to accept rental assistance to ensure residents can stay in their homes is extremely troubling. In this critical new phase of the crisis facing renters, it is important that we remain vigilant to corporate landlords' evictions of residents.
The hearing received widespread news coverage, including:
Reuters, July 27: "U.S. House panel holds hearing on pandemic evictions by corporate landlords"
The New York Times, July 27: "The chairman of a House coronavirus subcommittee vows to investigate eviction practices by corporate landlords."
The Washington Post, July 20: "House panel targets corporate landlords tied to thousands of evictions"
Bloomberg Government, July 27: "Eviction Ban Lapse, Delta Surge Fuel Calls for Congress to Act"
States Newsroom, July 28: "'There was no concern for my life': Families losing homes despite federal eviction moratorium"
WSOC TV Charlotte, July 27: "Some landlords accused of ignoring eviction moratorium, rental assistance money"
The Real Deal, July 21: "Four landlords allegedly pushed out 5,000 renters during moratorium"
Nevada Current, July 22: "House launches probe of moratorium-defying evictions at weekly apartments"
Las Vegas Review Journal, July 20: "The Siegel Group under scrutiny by House panel for eviction practices"
Missouri Independent, July 27: Congress hears testimony on families losing homes despite federal eviction moratorium
Rental Housing Journal, July 20: "House Panel Asks Landlords to Explain Evictions During Moratorium"
BisNow, July 20: "4 Major Landlords Targeted In Congressional Eviction Investigation"
The hearing followed the launch of the Select Subcommittee's new investigations into four corporate landlords concerning their cooperation with rental assistance programs and compliance with the eviction moratorium by the Centers for Disease Control and Prevention. A letter was sent to four corporate landlords pressing them to explain why they filed eviction actions against thousands of residents despite the moratorium.
Clyburn wrote in those letters, "The failure of some large landlord companies to comply with eviction moratoria or to cooperate with rental assistance programs is creating significant hardship for tenants affected by the coronavirus crisis and could contribute to a needless housing crisis as our nation recovers from the pandemic and its economic fallout."
Pretium Partners, Invitation Homes, the Siegel Group and Ventron Management filed to evict over 5,000 renters during the pandemic despite the CDC eviction moratorium. The CDC moratorium is scheduled to expire on July 31, 2021.