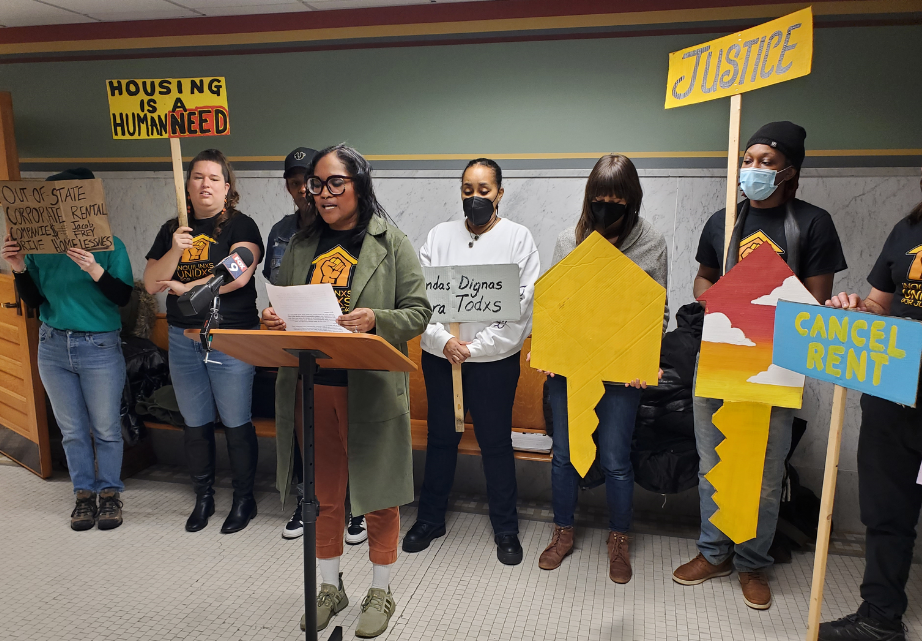 Tennessee Consolidated Retirement System abruptly cancels board meeting as renters press to hold Pretium Partners accountable
After receiving notice that members of United Renters for Justice/Inquilinxs Unidxs Por Justicia would be speaking at its board meeting, and had organized a mass digital action urging its diligence around investments in Pretium Partners, the Tennessee Consolidated Retirement System (TCRS) abruptly canceled its general board meeting yesterday.
Pretium Partners owns more than 7,700 homes in Tennessee. As reported on by the Washington Post, at a time when there is an affordability housing crisis, Pretium Partners has made it more difficult for Tennesseans and families across the country to buy their own homes.
Renters from United Renters for Justice/Inquilinxs Unidxs Por Justicia had prepared comments they were going to share today at the general board meeting, as well as launched a call yesterday for tenants and allies to send emails to TCRS urging it to:
Stop future investments in Pretium Partners, the largest single-family rental company in the United States.

Hold Pretium accountable to renters in Minneapolis and nationwide

Urge Pretium to meet with tenants to urgently address their concerns and the concerns of Progress renters across the country.
The TCRS invests in private equity firm Pretium Partners that has over $51 billion in assets and owns Progress Residential. In 2020, the TCRS committed $125 million to Pretium Partners through the Pretium Single-Family Rental Fund III.
Progress Residential tenants have shared that they are experiencing high rent increases, unnecessary fees, mold, lack of communication, no heat for weeks, pest infestations, deplorable conditions so their children had to be relocated with relatives or friends, and a potential third party utility company charging them more hidden fees.
Pretium Partners has come under fire for its practices of trying to evict tenants in other states during the COVID-19 pandemic in violation of federal and state eviction moratoriums. In August of 2022, the U.S. House Select Subcommittee on the Coronavirus Crisis released a report investigating the eviction practices of Progress Residential and other corporate landlords during the first 16 months of the pandemic. Pretium filed more than 6,000 evictions during this time. Furthermore, representatives of the company engaged in abusive tactics to remove tenants from their homes, including placing tenants into the eviction filing process after they fell as little as $500 to $1,000 behind on rent.
In recent years, tenant mistreatment has been a systemic occurrence for Progress. Tenants in North Carolina, Minnesota, and Georgia have vocalized their Progress horror stories. In addition, more than 10,000 aggrieved tenants formed a Facebook group titled "Victims of Progress Residential".
In North Minneapolis, Progress Residential tenants have been organizing for several years through tenant meetings, 311 calls to the City of Minneapolis, home inspections, meetings with Regulatory Services, press conferences and actions, placing their rent into escrow, submitting repair requests, and speaking in front of major investors like TCRS. Following these organizing efforts, in January the Minneapolis City Council passed a list of agreements that the landlord managed by Progress Residential signed in order to operate in the City of Minneapolis.
Private Equity Stakeholder Project and United Renters for Justice/Inquilinxs Unidxs Por Justicia have requested a meeting with TCRS staff in lieu of the general board meeting but have yet to receive a response.