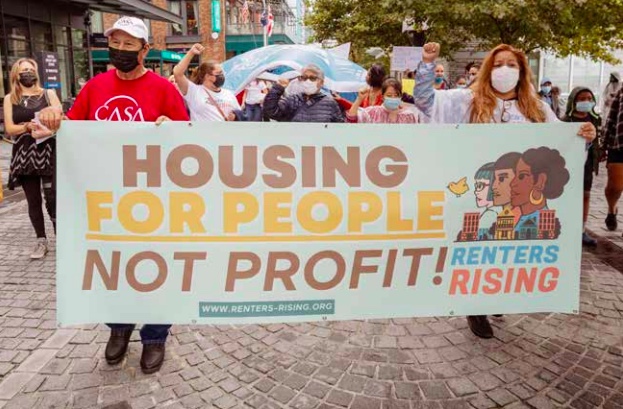 New report: Progress for Who? Progress Residential Preys on Renters as It Buys Up Homes in Tennessee and the U.S. South
Progress Residential – the largest and one of the worst predatory corporate landlords in the South – has a track record of mistreating and exploiting vulnerable renters, according to a newly released report co-authored by the Private Equity Stakeholder Project (PESP) and Center for Popular Democracy (CPD). The damning report exposes blatant tenant abuses by the corporate owner of more than 90,000 rental properties nationwide. 
The report, "Progress for Who? Progress Residential Preys on Renters as It Buys Up Homes in Tennessee and the U.S. South" details Progress' history, growth, and track record of mistreating renters, and is being released with grassroots tenant groups Action NC and Inquilinxs Unidxs Por Justicia/ United Renters for Justice.  
The report is being released as the National Rental Home Council (NRHC) is holding its national conference in Nashville, Tennessee April 16-19. The NRHC was formed by Progress, and the three other largest single-family rental landlords in the country, to advocate for their shared interests, manage public relations, and advance government policies enabling their market expansion. 
Renters are calling on the NRHC and the corporate landlords that lead it to adopt tenant protections against evictions and rent increases, recognize tenants' right to organize and bargain collectively, and implement proper maintenance, customer service, and transparent business practices. 
"We're hard-working people. We're families struggling through inflation. The NRHC and its wealthy corporate members don't care about anyone else but their profits. We deserve to feel safe from eviction when these greedy corporate landlords raise our rents beyond what we can afford without warning so they can take advantage of us and evict us at will," said Liliana Bauman, National Organizing Manager for Housing Justice at Center for Popular Democracy. "We demand NRHC meet us at the table and take us seriously if they call themselves protecting us from predators like Progress Residential."
Shanika, a Progress Residential tenant organizing with Inquilinxs Unidxs Por Justicia in Minneapolis, recently flew down to Tennessee to speak before the Tennessee Consolidated Retirement System, a pension fund that invests in Pretium partners, which owns Progress Residential. "We want our neighborhoods back so that our families can feel and see the fruits of our labor. I will not be silenced with band-aid repairs or temporary solutions to a much bigger housing crisis. I will also keep renters on the northside of Minneapolis uplifted with housing support with every bone in my body, and hold Progress Residential accountable to their obligations for each family that rents from them," she shared. 
The report documents how Progress has exploited tenants in the South and around the country by:
Filing questionable evictions, including during the federal eviction moratorium period

Neglecting home maintenance, resulting in health and safety hazards

Charging exorbitant add-on fees 
"In case after case, we have seen corporate landlords like Progress Residential seek to increase revenue and cut costs, often harming tenants in the process. The time for change in the single family rental industry is now," said Madeline Bankson, Housing Research Coordinator at Private Equity Stakeholder Project, and one of the report's authors.
"Corporate landlords, including Progress, have instilled predatory business practices over the last decade, raising rents while they do not upgrade their properties and do bare minimum on maintenance. They find ways to squeeze as much money as they can from their tenants with fees, fines, and repair costs. They buy all the available single family homes in first time homebuyer neighborhoods, pricing tenants out and forcing tenancy on people. People can't buy and they can't keep up with the exaggerated rents. It's economic enslavement and it is not just. It has to stop," said Jessica Moreno, Organizing Director at Action NC.