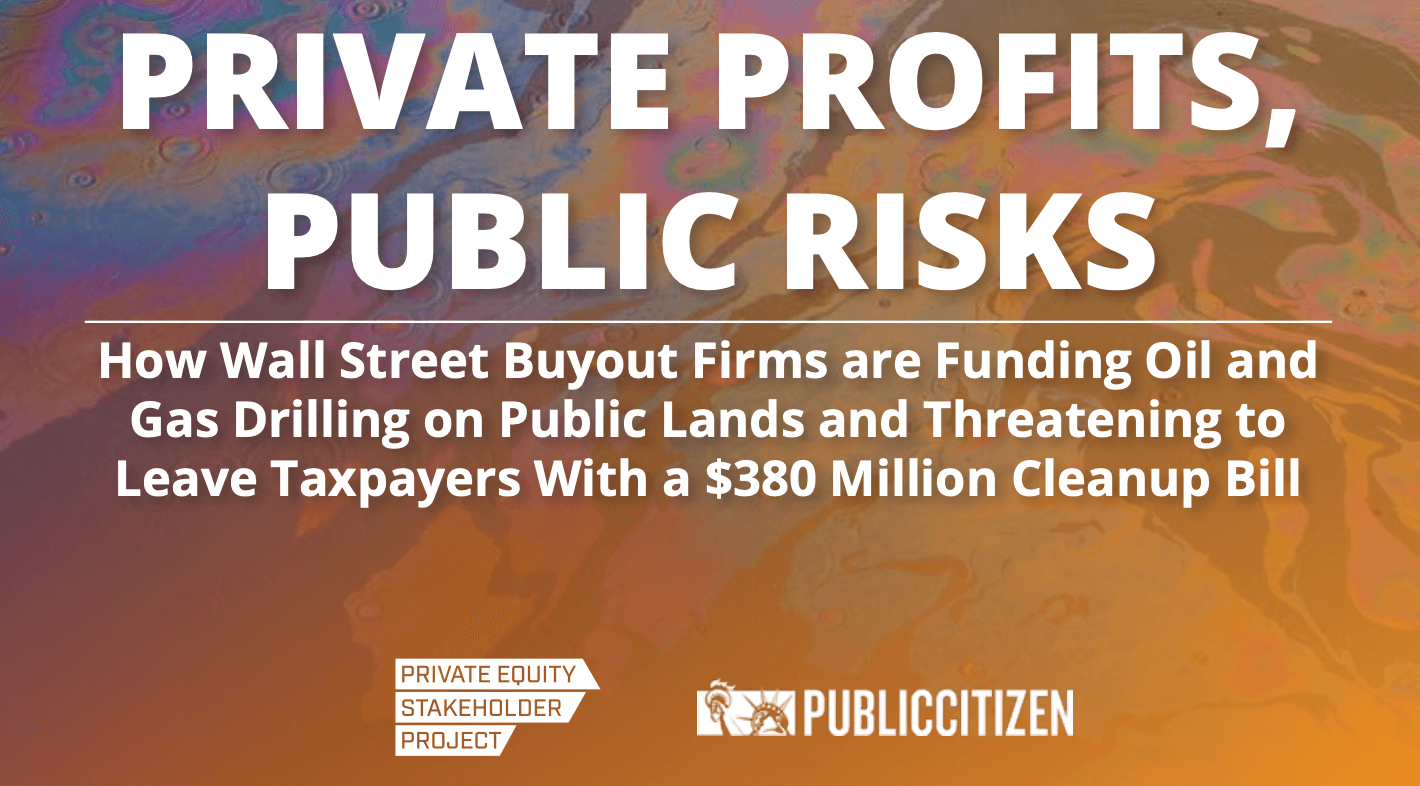 Private Profits, Public Risks
Investments by private equity firms in nearly 2,700 oil and gas wells on federal and tribal lands across the western United States could leave taxpayers with a cleanup bill of up to $380 million, according to a new report released today by the Private Equity Stakeholder Project and Public Citizen.
---
How Wall Street Buyout Firms are Funding Oil and Gas Drilling on Public Lands and Threatening to Leave Taxpayers With a $380 Million Cleanup Bill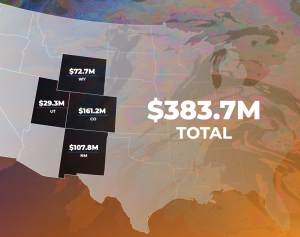 *Taxpayers could face up to $384 million in cleanup costs for wells drilled on federal lands by private equity-backed companies, including $160 million for Colorado alone.
---
Report Summary
Buyout firms seeking to profit from U.S. oil and gas drilling have pumped hundreds of billions of dollars into fossil fuel companies in recent years. These oil and gas investments by private equity firms prolong the lives of drilling operations that leak high levels of climate-damaging methane gas, contaminate groundwater and threaten neighborhoods. The majority of U.S. onshore drilling occurs on private or state property. However, a subset of drilling operations happens on federal and tribal lands, allowing for a closer examination of private equity-backed oil and gas operations and how much it eventually could cost to clean them up. The private equity industry has a long history of investing in declining industries, extracting profit and then, in many cases, filing for bankruptcy after a company has been rendered worthless, avoiding financial responsibility for liabilities. Given this pattern, federal and state officials must ensure that the oil and gas industry bears the financial burden of plugging and cleaning up aging oil and gas wells around the country. Otherwise, taxpayers will be stuck with the bill.
Key Findings
The report authors identified 19 private equity firms — including Blackstone, Carlyle Group, Apollo Global Management, KKR and Warburg Pincus — that invested in 35 oil and gas companies that received permits to drill on federal lands since 2017.
The involvement of these private equity buyout players in onshore oil and gas drilling raises the risk that the oil and gas industry will follow the coal industry's playbook and use aggressive tactics to ditch environmental cleanup responsibilities.
If adequate protections are not put in place, U.S. taxpayers could be stuck with a bill of nearly $384 million in just eight states for decommissioning and cleaning up nearly 2,700 oil and gas wells on federal and tribal lands operated by private-equity-backed companies. Under current rules, companies are only required to set aside a minimal amount of money to pay for cleanup – only about $5.7 million, or 1.5% of the cleanup bill likely to be available under current practices.
Colorado has the largest potential cleanup bill from private equity-backed drillers on federal lands at up to $161 million, followed by New Mexico at $108 million.
Private equity-backed drillers made up 78% of Colorado's approved federal drilling permits since 2017, followed by Utah at 50%.
Private equity-backed onshore drillers have paid the Interior Department nearly $2 billion in drilling royalties since 2017. Those royalties, designed to provide taxpayers a fair return, for the use of public lands, are insufficient when compared with higher royalties charged by states.
Private equity-backed oil and gas companies increasingly use greenwashing strategies to cast themselves as environmentally responsible actors. These tactics seem designed to maintain political and investor support for fossil fuel drilling and exports.
Find the full report HERE.