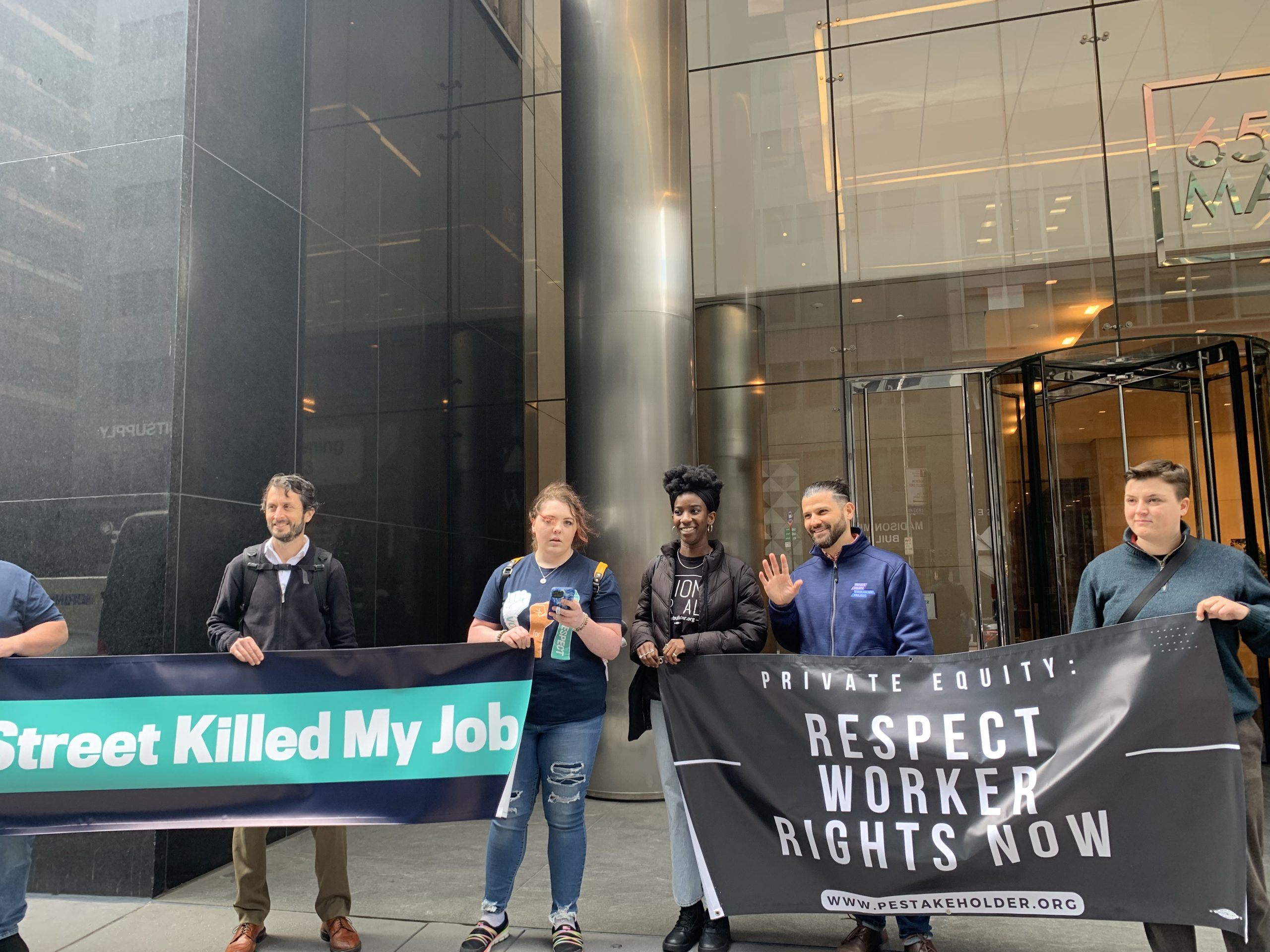 Truthout : Labor Organizers Launch a New Model for the Fight Against Private Equity
PESP's and United for Respect's May Day action and Labor Rights platform were featured in an investigative piece by Truthout writer Derek Seidman. Read the Spanish language article here.
The article explained how a key strategy for implementing the platform will involve working with large investors with private equity firms that together manage trillions in worker retirement savings, such as public sector employee pension funds and union pension funds.
Seidman wrote that "as private equity acquires companies, a low-hanging area to cut costs is the company's workforce — firing workers, slashing wages and benefits, and making anyone who remains work harder and faster and with less safety protections."
PESP's Justin Flores told Truthout that "The private equity industry is really infamous for this model of buying, cost cutting, saddling a company with debt, flipping and selling at a big profit. "And workers often bear the brunt of that."
The article contained several examples from the recent past of private equity's treatment of workers: "…Cerberus Capital Management has gone after Albertsons-Safeway workers' pension funds. THL Partners loaded Art Van Furniture with debt, sold off assets and fired workers and ultimately bankrupted the company. Brand name restaurants owned by Roark Capital have seen rampant wage theft. A Blackstone-owned sanitation company was recently fined $1.5 million for illegally employing over 100 minors.
"In one of the most notorious examples of a private equity raid," Seidman continued, "KKR and Bain Capital, along with real estate firm Vornado Realty Trust, acquired Toys "R" Us in 2005 and proceeded to load the toy company with debt, strip away millions in assets, fire 30,000 workers and ultimately drive it into bankruptcy."
The article also explained problems beyond impacted workers. "Private equity's … impacts are overwhelmingly destructive — gutting nursing homes, propping up coal plants, price-gouging on health care and decimating the print media."
Seidman spotlighted the ongoing campaign by Refresco workers and UE members at a bottling factory in Wharton, New Jersey. He explained how around 250 mostly Latin American immigrant workers at the plant voted in an NLRB election to unionize with UE Local 115. Refresco challenged the workers' victory, prompting a second vote in which workers won their union by an even larger margin. During the union drive, Refresco paid huge sums to notorious anti-union consultant firms.
Shortly before the second NLRB victory, 'Refresco was acquired by KKR, the world's second-largest private equity firm. KKR has over half of a trillion dollars in assets under management. Henry Kravis, the firm's famous co-founder and co-executive, is worth $7.4 billion and owns a personal art collection that includes "Louis XIV furniture and paintings by Jean Renoir and Claude Monet."'
UE organizer John Ocampo told Truthout that workers are "making progress at the bargaining table but that there's no agreement yet on the issues that matter most to workers, such as wages, benefits, and work hours and schedules. While the union is hoping and expecting for continued progress, they remain ready to fight, up to and including a strike."
Refresco worker Anthony Sanchez explained how a union contract at KKR-owned Refresco could transform his life for the better, giving him the time and energy to simply do everyday things like exercise, read, watch the news and sleep well at night.
Ocampo also shared that the UE is also determined to defend labor in the broader struggle against private equity takeover. "History shows that these private equity firms will buy up a company and they'll just squeeze it for five to seven years and then sell it, and sometimes that means shutting the business down, stripping it, degrading conditions at work," he said.
"They're just out to make a buck," he said. "They don't even care about the long term viability of the company necessarily. They're just in it for a few years to suck it dry, like a vampire, and move on."