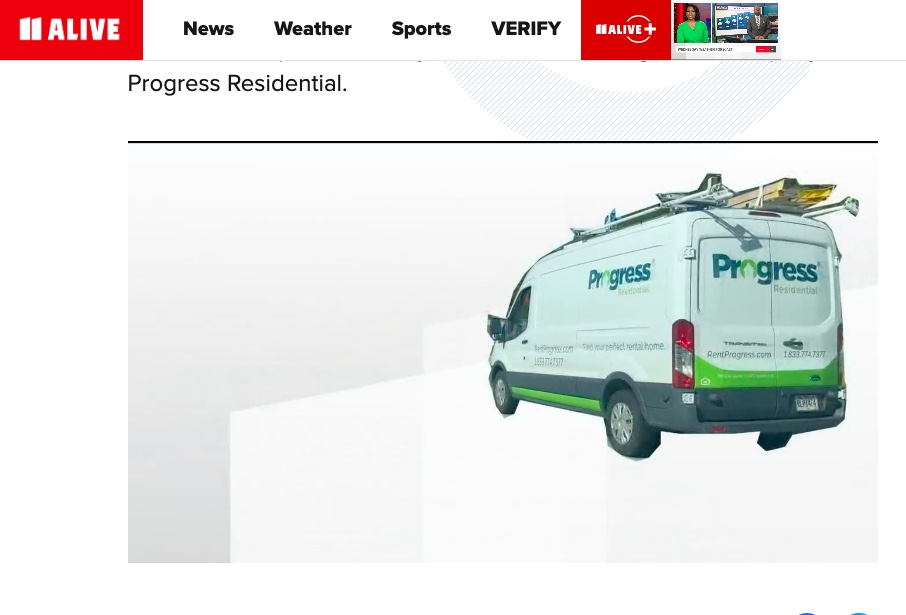 Atlanta News Station Runs Series Featuring Ongoing Tenant Problems with Progress Residential
Since September 2022, Atlanta-based journalism outlet 11Alive News has been publishing a series of televised news stories about ongoing issues Progress Residential. Owned by private equity group Pretium Partners, Progress Residential now owns over 85,000 single-family rental (SFR) homes, making it the largest SFR owner in the United States. The company has been the subject of numerous complaints by residents for issues related to lead paint, black mold, pest infestations, flooding and electrical hazards. In fact, a Facebook group titled "Victims of Progress Residential" currently maintains an active membership with over 10,000 members. 
The first story by 11Alive, beginning with the heading "This is a Headache," details how several residents of the Cascade Parc neighborhood in Southwest Atlanta were victims of unexpected water shutoffs by their homeowners association for several days. Despite paying their bills to Progress Residential, which was tasked with paying the homeowners association, residents were still on the hook for unpaid account balances. According to tenants in the September story, this was not the first time this occurred. Disabled residents and families were left without water over the weekend, unable to contact their homeowners association or Progress. Even with the assistance of 11Alive, people were still left without water for at least 4 days, in the midst of the pandemic.  In the news story resident Jasmine Taylor is quoted as saying "Progress Residential doesn't suffer, the HOA doesn't suffer, I'm the one who is suffering but I have not done anything wrong. It's just not fair," she added. 
After the initial 11Alive story, the news station claims that "many" people reached out to the news channel in order to share their history with Progress Residential. A news story that ran in November, 2022 featured Progress tenant Ryan Boyd, who maintained a three-ring binder detailing her issues with Progress. Boyd was taken to court for not paying thousands of dollars in rent, due to Progress locking her out of the portal she was required to use to pay her rent. Despite attempting to then pay her rent through cashier's checks, her checks were sent back to her without any explanation or phone call. She faced the threat of  eviction before 11Alive news contacted Progress Residential about her situation.  In her interview, Boyd stated "I have never owed them money. I want to make that clear." She continued, "Throughout all of COVID, I always paid my rent, I always had a job." The November article also featured Progress tenant Brian Braun, who was based in Winder, Georgia. Braun stated that when he made complaints to Progress about his septic tank and air conditioner he was either ignored, or sent technicians that were unable to fix his problems. In regards to his poor service by Progress, Boyd told 11 Alive that "no one wants to take accountability. No one wanted to take blame. They pretty much just wanted to pass you off to the next person as soon as possible."
Atlanta residents are not the only tenants having issues with Progress Residential. Tenants of Progress Residential (formerly Havenbrook Homes) in Minneapolis have been organizing with Inquilinxs Unidxs por Justicia/ United Renters for Justice after dealing with unsafe living conditions for years. Minnesota Progress Residential tenants complain of lead paint, black mold, pest infestations, flooding, and electrical hazards. Similarly to residents in Atlanta, Minnesota tenants also found Progress difficult, and in some cases impossible, to contact. Early in 2022,  the Minnesota Attorney General sued a subsidiary of Progress Residential, alleging "shameful," "deceptive," and "fraudulent" business practices. The suit also charges Progress Residential with violating the state eviction moratorium. The lawsuit is currently pending. 
Also in 2022, the United States House of Representatives Select Subcommittee on the Coronavirus Crisis released a report titled Examining Pandemic Evictions: A Report on Abuses by Four Corporate Landlords During the Coronavirus Crisis. Examining Progress along with three other corporate landlords, the report found that Progress engaged in "abusive tactics" to remove tenants from their homes. In some cases, Progress filed evictions on tenants who were only a single month behind on rent. According to the report they also placed tenants into its eviction filing process "after they fell as little as $500 to $1,000 behind on rent." 
Despite being difficult to contact in regards to unsafe housing, water shutoffs, or even rent payment, Pretium and Progress were available to file to evict tenants during the ongoing COVID-19 pandemic. After organizing by s Inquilinixs Unidxs por Justicia/ United Renters for Justice, several tenants in Minneapolis have won monetary compensation, repairs, and opportunities to move into different Progress Residential homes. Direct actions such as protests at local Progress Residential offices and tenant engagement with Pretium Partners' investors have also led to tenants winning the right to pay their rent to the court via an escrow, rather than through Progress's faulty payment system. After the initial 11Alive news article on Progress ran, tenants featured in the article said that some of their claims were addressed. 
While these wins are great, it should not be up to tenants to organize or contact news media to gain access to human rights such as water, or safe and humane housing. As these recent news articles show, Pretium Partners and private equity as a whole continue to make a profit while tenants and their families suffer.