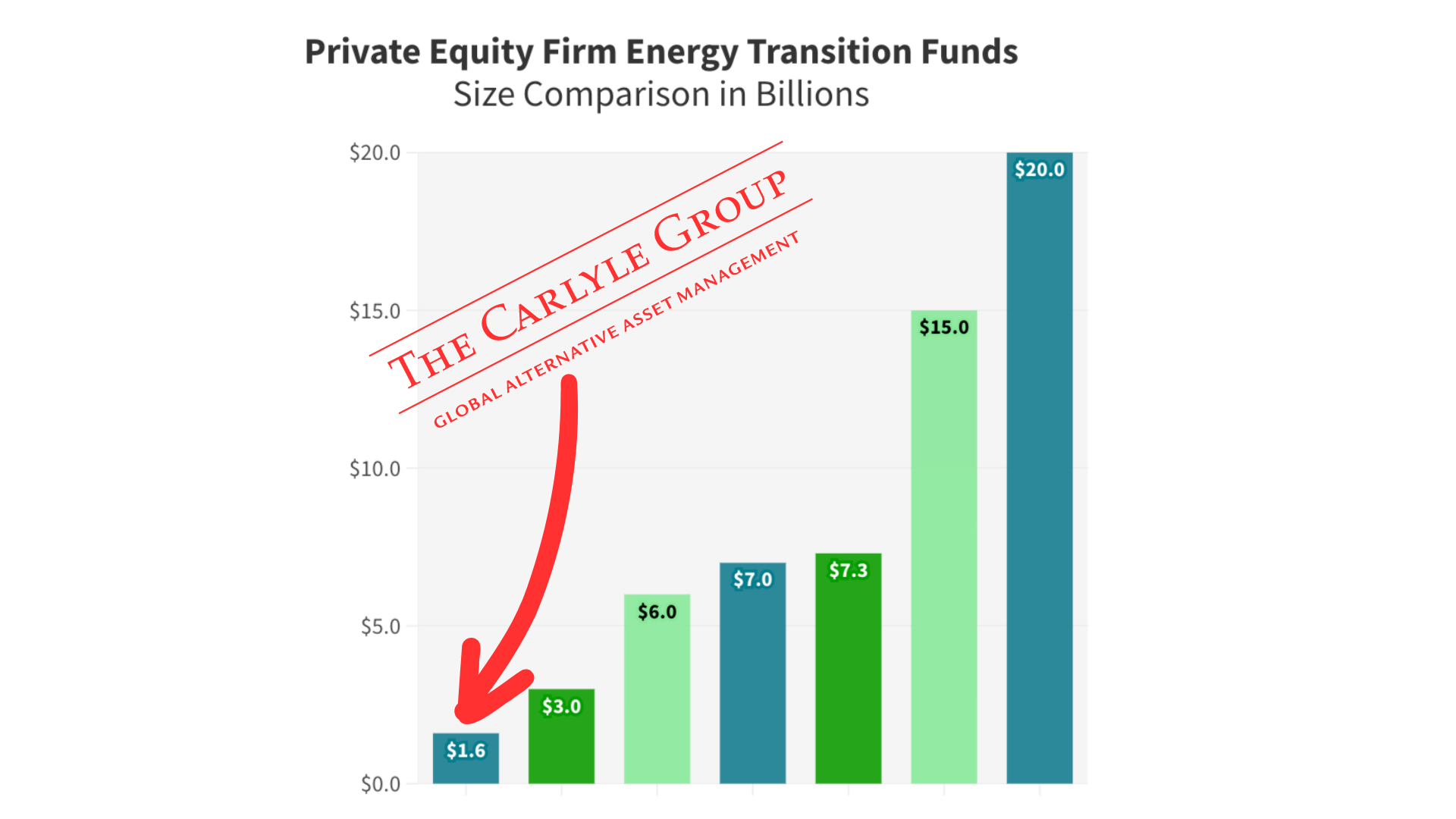 Carlyle's timid capital raise for renewables
Private equity firms are seeking to portray themselves as supportive of the energy transition. One indicator of their commitment to clean energy technologies is fundraising. Several private equity firms have sought to raise money for funds with a mandate to invest in the energy transition and renewables.
To be clear, many of the largest PE firms have much more to do to address the impacts of fossil heavy investments across their portfolios and their contributions to the climate crisis. But deploying capital into renewable energy is also an important step, and an indicator of how serious they are about the investment opportunities in building a clean energy economy.
The Carlyle Group has lagged peers in transitioning away from fossil fuels and accounting for its impacts. By another measure – fundraising for renewables and energy transition – Carlyle has also fallen behind other firms.
A comparison of recent renewable and energy transition fund size between several large private equity firms shows that Carlyle's Renewable & Sustainable Energy Fund II is dwarfed by similarly-themed funds targeted by peers.
Private equity firms may also invest in renewables or energy transition deals through other fund strategies such as buyout or infrastructure funds, but raising funds with a specific mandate to invest in sustainable energy can be one useful indicator.
Carlyle launched its main climate transition-focused fund, Carlyle Renewable & Sustainable Energy Fund II, in June 2022, seeking to raise a reported $1.6 billion. A year later, as of July 2023, the firm had raised less than 40% of that target ($591 million).
Meanwhile, Carlyle subsidiary NGP is trying to raise a larger oil and gas-focused fund, NGP Natural Resources XIII, seeking $2.5 billion. Carlyle has noted that NGP is its main vehicle for investing in "carbon-based" energy in the US.
Overall, Carlyle's fundraising has been down. Carlyle reported overall fundraising of $24.9 billion over the past year, a 52% decline from the $52.1 billion it had raised over the prior year.
As the above chart shows, some of Carlyle's peers have recently raised or are in process of raising large funds dedicated to energy transition or renewable energy:

While other PE firms like Blackstone and TPG highlighted opportunities in renewable energy investments during their most recent investor conference calls, Carlyle was silent on the issue.
With Carlyle's drop in fundraising, as well as media stories calling its emissions declarations into question, this is an ideal time for investors to ask Carlyle to be fully transparent about its progress on emissions reduction and energy transition plans across its entire investment portfolio, not just certain funds or portfolio companies.