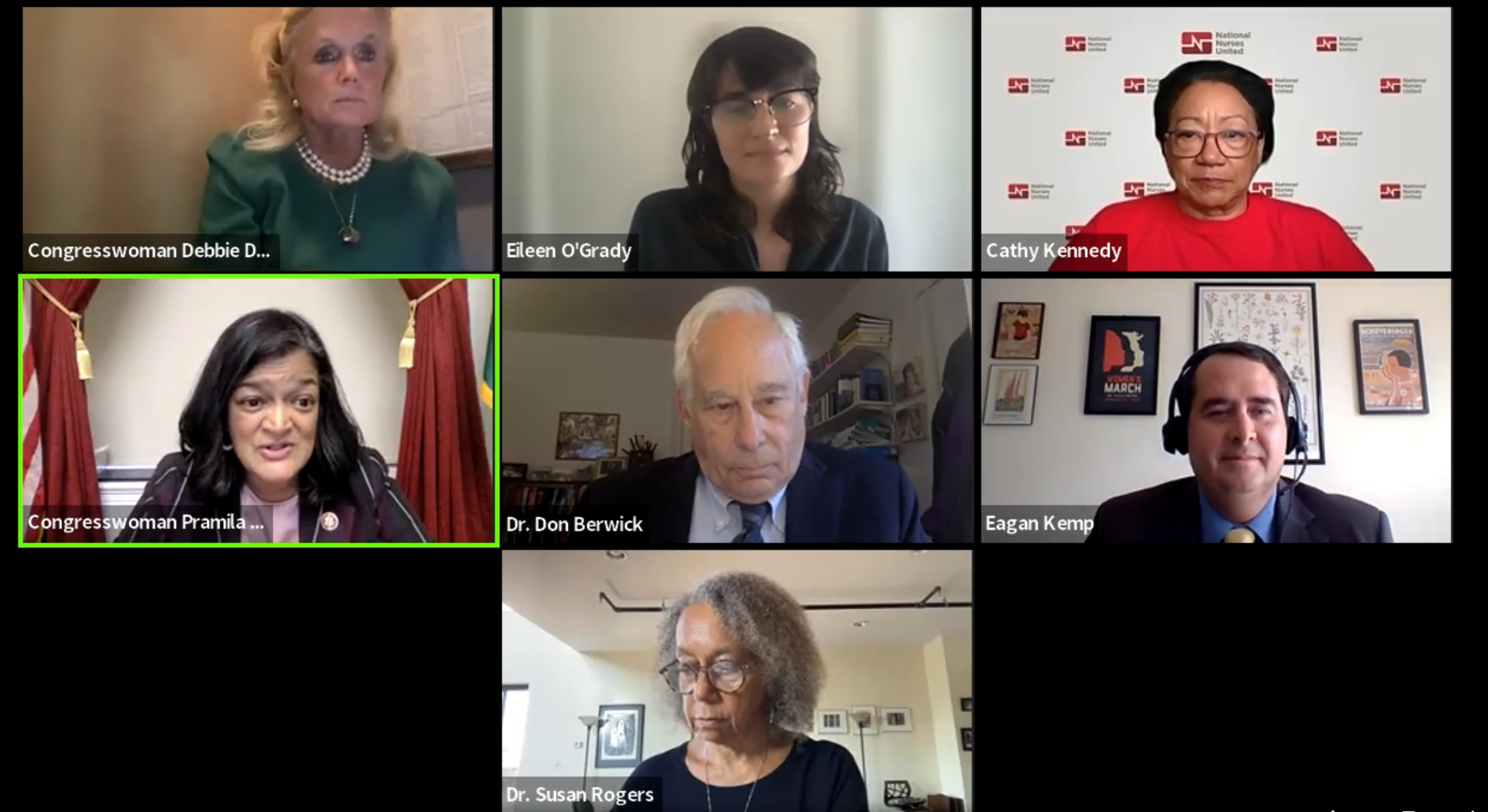 PESP Healthcare Director speaks on private equity in healthcare in Medical for All Caucus panel
PESP healthcare director Eileen O'Grady recently was invited to speak on a panel at a meeting of the Congressional Medical for All Caucus. The caucus launched in 2018 to further knowledge and legislative efforts on creating a single government-run healthcare system, using and improving the current Medicare system. In addition, the caucus has shined a light on the issue of healthcare being a human right, sharing the current problems of a profit-driven and largely corporate health system.
In her presentation on the panel, Eileen gave a run down of private equity firms that actively invest in healthcare and their tactics that prioritize profits over patient care. Today, private equity firms control about $7.5 trillion in assets globally, an amount that is growing consistently every year. In the first half of 2021 alone, PE firms experienced their busiest six months ever—announcing over 6,000 deals with a total valuation of over $500 billion. Currently, healthcare is one of the biggest targets for private equity investment, and in 2020, PE firms spent almost $100 billion on healthcare deals, which was a 71% surge compared with six years prior.

Private equity firms have not discriminated in the healthcare sectors they invest in, entering deals in nearly every aspect of the healthcare space, including: 
nursing homes

safety net hospitals

home healthcare

behavioral health

travel nursing agencies

dentistry

pharmaceuticals

medical devices

prison and jail health

medical billing

debt collection

A new report by PESP's Mary Bugbee examined PE's movement into the every corner of the industry, with an analysis of private equity-owned travel nursing agencies and the concerns brought about by PE involvement. The report, "Profiting in Crisis: Exploring Private Equity's Investments in Travel Nursing Amidst a Critical Nursing Shortage and a Pandemic," highlights nursing shortages, the unprecedented rate hikes for travel nurses, the associated skyrocketing labor costs faced by hospitals, and the opportunistic influx of private equity into the medical staffing industry during a health crisis. It also calls attention to how the under-regulated, for-profit health system in the United States has substantial vulnerabilities, especially so during a pandemic.
Private equity is also beginning to find ways to enter nonprofit healthcare spaces by creating hospital management companies that essentially run and operate non-profit and community hospitals. These financial arrangements—and especially the PE firms behind them—operate largely in the shadows. Additionally, the private equity business model and its track record in the healthcare industry shows a history of favoring profits over patient care and employee wellbeing. Private equity firms, regardless of what industry they're investing in, are typically looking to double or triple their investment over a relatively short time horizon. Because of this profit model, firms highly prioritize increasing the cash flow at the companies they own, which in many cases means cutting staff and reducing patient services. 
Between asset stripping and massively cutting operating costs, these profit-seeking tactics have profound impacts on patient care. O'Grady dubbed her description of private equity as "for-profit healthcare on steroids." Because of their limited liability and the opaque nature of the industry, it is incredibly hard to ensure compliance or hold firms accountable, in contrast to public companies or nonprofits. 
A recent example of private equity's detrimental effects on patient care is unfolding in the state of Pennsylvania. Prospect Medical Holdings, a hospital chain that owned 17 hospitals in 5 states, has been under fire recently for causing irreparable harm to communities and workers for its hospital closures in Pennsylvania. Prospect owned for ten years by private equity firm Leonard Green & Partners. Over the course of its ownership, Leonard Green siphoned hundreds of millions of dollars in dividends and fees from the Prospect hospital chain even as its hospitals suffered quality and operational issues that hurt patients and workers.
To combat private equity's profiteering in the healthcare industry, O'Grady emphasized that it's especially critical for policymakers to pass legislation—and for regulators to propose rules that increase transparency and accountability for private equity investments in healthcare. She added, "Representative Jayapal's Healthcare Ownership Transparency Act introduced earlier this year is an excellent first step in building the groundwork for reigning in some of private equity's most harmful and extractive practices in raiding healthcare infrastructure." 
You can view all of Eileen O'Grady's panel remarks, and answers to multiple PE-related questions, in the recording of the event here.
---