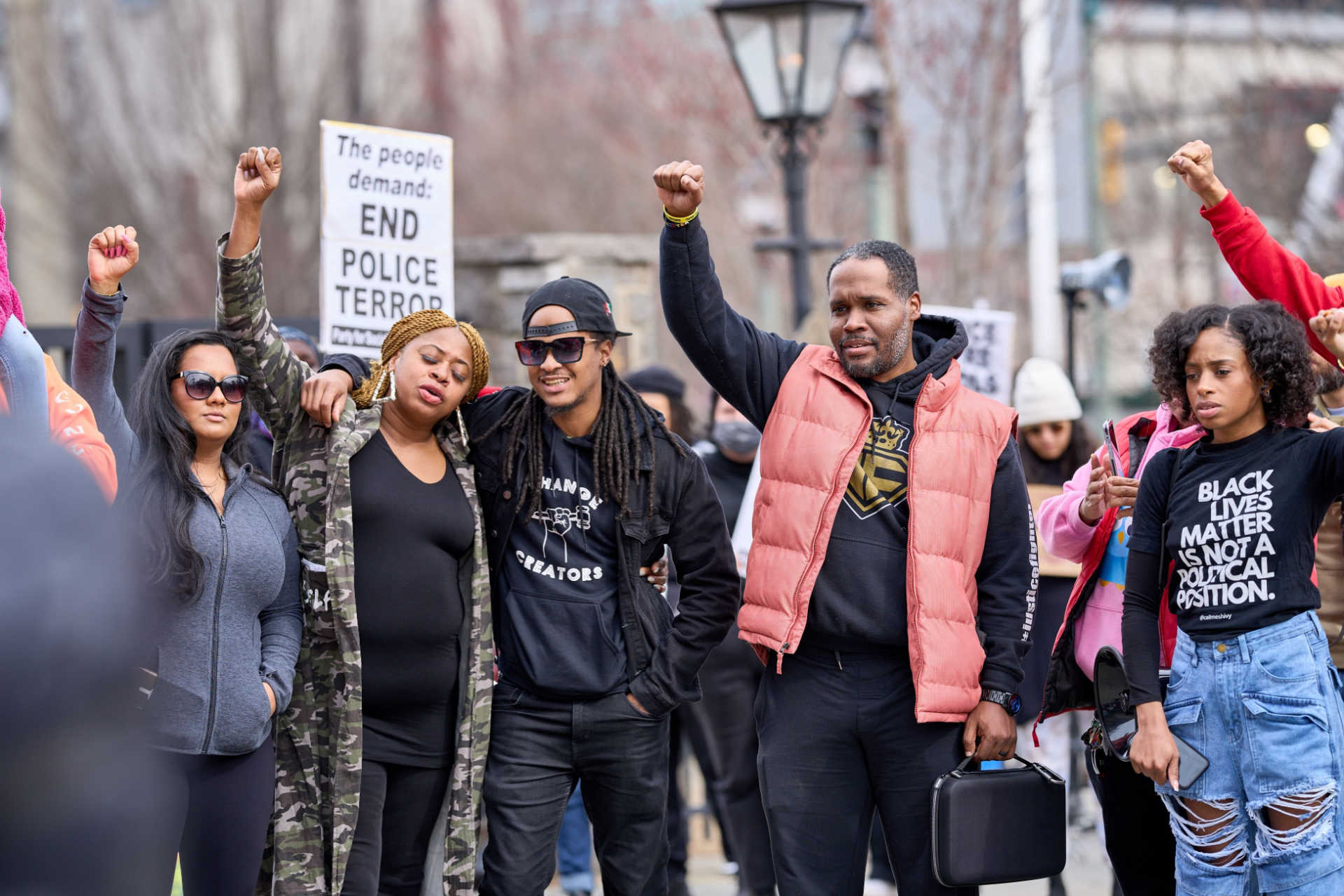 Private equity profits from detaining activists charged with domestic terrorism in Atlanta
Since December 2022, Atlanta-area officials have charged 42 people with domestic terrorism for protesting the construction of Cop City, a police training facility that would sit on 85 acres of currently wooded land in the Weelaunee Forest (also referred to as South River Forest). The majority of the charges came from arrests made during a music festival in March – lawyers and activists have challenged the strength of evidence cited in support of the arrests, such as muddy shoes and having a legal support number written on the body. The mass arrest came just weeks after police shot and killed Manuel Esteban Paez Teran, remembered by loved ones as "Tortuguita," as they sat with their hands up to defend the forest.
Those charged with domestic terrorism were sent to three local jails: DeKalb County Jail, Fulton County Jail, and Atlanta City Detention Center, all of which contract with private equity-owned companies to provide services. Though many have been released on bond, at least eight remain in jail as of April 18, despite little evidence that their actions amounted to domestic terrorism. Human Rights Watch (HRW) describes Georgia's 2017 domestic terrorism law as "unusually broad," as it covers intent to "disable or destroy critical infrastructure, a state or government facility" in order to "alter, change, or coerce the policy of the government." In a call to drop the charges, HRW argued that this far-reaching law can "invite politically-motivated prosecutions aimed to monitor, punish, and chill free speech activities."
As some protesters continue to sit in jail, private equity firms profit from their use of medical services, commissary products, and communication with those on the outside. 
DeKalb County Jail
The DeKalb County Jail opened in 1995 and has a 3,800-bed capacity. Since 2011, DeKalb County has outsourced medical services to Wellpath (formerly Correct Care Solutions), one of the largest jail and prison healthcare providers in the country. In 2018, private equity firm H.I.G. Capital acquired CCS and created Wellpath. For the contract effective from February 1, 2018 to December 31, 2022, DeKalb County agreed to pay Wellpath more than $37 million. 
Since H.I.G. formed the company in 2018, Wellpath has been subject of lawsuits and investigations across the county. A 2021 report from the U.S. Department of Justice found that  the San Luis Obispo County (California) Jail, where Wellpath provided medical care, "failed to provide a medical screening system that ensures adequate diagnosis and treatment of serious medical conditions and continuity of care," and that "Wellpath and its staff appear not to take seriously prisoner grievances or the grievance process as a mechanism for prisoners to raise legitimate medical concerns." The report concluded that the jail's poor care violated detainees' constitutional right to adequate medical care. At other facilities, incarcerated people, their families, and even contractors have reported overmedication, refusal of psychiatric care, unnecessary physical and chemical restraints, and wrongful deaths.
In May 2019, 64-year-old Clarence Manning died in the DeKalb County Jail after several attempts to get medical care. Jail employees made repeated calls to medical staff when it appeared Manning was suffering a seizure, but nurses were slow to respond, leading one officer to believe that Manning's death "could have been prevented." The day before he died, Manning asked to go to the hospital for intense pain, but medical personnel never arrived to check on him, much less to take him to the hospital. Manning, like almost everyone in the pre-trial detention center, had not been convicted of a crime. 
Issues with medical care in DeKalb County Jail are ongoing – one protester charged with domestic terrorism reported being denied hormone medication. Since 2012, at least 42 people have died in the DeKalb County Jail. In 2022, nine people died in the jail, making it the deadliest year on record in the ten year stretch. The Georgia Bureau of Investigation, the agency that planned the raid that led to Tortuguita's death, declined to investigate the unusually high number of deaths in 2022. 
In addition to Wellpath, H.I.G. Capital owns TKC Holdings, which provides food, commissary, and telecom services to jails, prisons, and immigrant detention centers. H.I.G. formed the company by combining Trinity Services Group (food services) and Keefe Group (commissary). DeKalb County has used Trinity Services as a food provider since at least 2009; the County paid Trinity Services Group $14 million for food services at the jail from January 1, 2018 to March 30, 2023. 
In 2019, protests outside the DeKalb County Jail were sparked by pictures from inside the jail, where men had written messages like "Please help, we dying, need food!" on the bottom of styrofoam food trays. Protesters inside and outside of the jail alleged that the food from Trinity was contaminated with mold. Then-Sheriff Jeffrey Mann admitted that the jail had a mold problem. According to a 2017 report by the Centers for Disease Control and Prevention, incarcerated individuals are 6.4 times more likely to fall ill from spoiled or contaminated food than non-incarcerated individuals. 
In April 2022, Norman Simmonds sued Trinity Services and DeKalb County officials for failing to provide a diet consistent with his faith, leading to "a prolonged period of insufficient nutrition that might have caused long-term health problems, including organ damage, given several pre-existing health conditions." Simmonds and others observing Ramadan, when Muslim observers fast from dawn until dusk, were denied pre-sunrise and post-sunset meals. During the first week of Ramadan, Simmonds' commissary access was revoked, barring him from purchasing food he could eat outside of standard meal times. The County settled the suit the day after it was filed, and agreed to start providing meals in a timely manner. The Executive Director of the Georgia chapter of the Council on American-Islamic Relations (CAIR) celebrated the settlement, but noted that "these basic accommodations should have been provided from the very start of Ramadan. The fact that these have just now been adopted after the filing of a federal lawsuit shows the extreme lengths Muslim detainees are forced to take."
From 2004 to 2011, H.I.G. Capital also owned Securus, a major prison communications provider. Securus is now owned by another private equity firm, Platinum Equity, which acquired the company in 2017. Platinum Equity has already been subject to scrutiny for its investment in Securus in recent years as pressure from incarcerated people, their loved ones, and advocates garnered media attention.Despite facing a call to exit the investment, Platinum Equity continues to hold Securus in its portfolio. Securus, which acquired JPay in 2015, offers platforms for phone and video calls, emails, educational content, and money transfers. 
At the DeKalb County Jail, Securus charges $5 for a 30 minute video call. In 2018, Securus charged $.18 per minute for phone calls, or $2.70 for a 15-minute pre-paid call. For emails, each attachment or page of typed text costs $.50. Georgia is one of the few states that does not guarantee pay for incarcerated workers, meaning that even those who have jobs cannot accrue any funds to pay for these services. The costs then fall on relatives and friends. These high fees charged to incarcerated people and their families have been lucrative for private equity – Platinum Equity paid itself more than $23 million through Securus from 2017 to 2021.
While prison telecom companies and the private equity firms that own them profit from high rates, county sheriff offices and state corrections departments often receive "commissions" (a form of legal kickbacks) from calls. The Prison Policy Initiative notes that kickbacks, while legal, are fundamental to the current industry business model: "jails and prisons often choose their telecom providers on the basis of which company will pay the facility the most money in kickbacks." In 2019, Georgia made more than $8 million from site-commission kickbacks, the most of any of the 18 states Securus provided services to that year. Nearly 60 percent of costs for calls made within the state went to kickbacks.
Fulton County Jail
Fulton County Jail also contracts with Securus for communications and TKC Holdings company Keefe Group for commissary. As in the DeKalb County Jail, those detained in Fulton County can make regular calls using state-provided phones through Securus, or purchase a personal Securus tablet to use for calls and educational content. The initial price of the tablet (including a required set of headphones) is $16.95, plus an additional monthly fee for continued use.
Prison and jail commissaries have basic necessities like toothpaste, soap, menstrual products, and thermal wear for cold months, but often at prices much higher than stores outside. As the only store in the jail, the commissary has no competition and no incentive to lower prices. For example, a 4.6 ounce Crest toothpaste costs $3.77 in a Keefe-run Kentucky commissary, but costs just $1.38 at the local Wal-Mart (173% markup). In 2022, Keefe raised commissary prices in Idaho (8.5%), Kentucky (7.2%), and Nevada, citing "world events such as supply chain shortages, shipping cost increases and increased labor costs."
In Georgia, where most are not paid for their work, these costs are impossible to pay without outside support. According to the company website, Keefe "participates in and provides corporate support to" four state organizations: Georgia Jail Administrators' Association, Georgia Jail Association, Georgia Prison Wardens' Association, and Georgia Sheriffs' Association.
Ten people died at the Fulton County Jail in 2022. Despite being the third largest in the state, Fulton County Jail has seen the most deaths of any Georgia jail since 2009. As of October 2022, more than half of the people detained in the jail had not been formally charged with a crime. The jail has been dangerously overcrowded in the past few years, with "hundreds of men sleeping on the floor throughout the hallways." 
In 2022, Fulton County Jail signed a contract to transfer up to 700 people to the Atlanta City Detention Center as a response to overcrowding in the jail. The Atlanta City Council voted to close the City Detention Center in 2019, but have yet to announce a closure date. The Detention Center currently uses TKC's kiosks and platforms to manage funds that can be used for commissary, phone, and internet. Surcharges for each deposit range from $2.95 to $3.95. 
While Cop City protesters may be the most visible detainees in Atlanta-area jails at the moment, private equity firms and the companies they own have been profiting from waves of mass incarceration in the region for decades. These profits largely come at the expense of criminalized Black communities – South Fulton has the highest percentage of Black residents in the country at 90% as of the 2020 census. Looking at Atlanta more broadly, Black people are still overrepresented in jails: in October 2020, Black Atlantans made up 90 percent of the average daily ACDC population despite only being 52 percent of Atlanta's population. Private equity firms' support for the destruction of the Atlanta forest in favor of increased police militarization indicates their continued willingness to profit from incarceration.